Psalm 100:4-5  "Enter into His gates with thanksgiving, and into His courts with praise: be thankful unto Him, and bless His name For the LORD is good; His mercy is everlasting…"
Since I was a small child, prayer has been one of the most important things to me.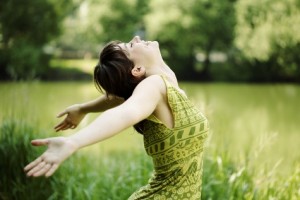 My parents taught that prayer was a valuable tool in getting to know Jesus on a personal level, as well as watching how God will listen to the heart cries of His people, and provide answers.
Throughout the years, I have prayed, taught classes on prayer, and encouraged others to take time to pray.  Truthfully, I was shocked at how many of my friends, and church family didn't spend time in prayer.  I love to spend most of my time talking to Jesus in prayer, and the rest of my time, talking to humans. 
Perhaps you're like me, or maybe you're someone who hasn't experienced the joy of knowing what it's like to go before an Almighty God, and place all of your cares, burdens, and thoughts before His feet.  What a privilege it is and how thankful I am that we can have this opportunity. 
Because I love to pray for people, people like to ask me to pray for them!  And I have watched God cure people of illness and disease, provide homes and jobs, keep them safe, match them up to their spouses, shower them with blessings, and provide comfort during times of loss.
Some of my favorite answers to prayers:
A wedding ring lost for years….and then found.
A man without a job for 1 year, and then hired for the best job he'd ever had.
A woman desperate to find her spouse, and then found and married him.
A young girl almost snatched into the hands of a predator, and God provided a way of escape
A woman praying for years for a child, struggling with infertility, we prayed, and God granted her a pregnancy and healthy baby boy.
Today, I brag on God.  He is the One that answers.  But we must ask Him.
I could go on and on, as I have personally experienced praying with people and watched how God answers their prayers.  The greatest blessing?  That it's always a better answer than the way we had expected.
There have been many times when God has said no.  I look back and see the whys, sometimes years later, sometimes minutes later, and He's always been right.
There have been plans that I have made, and others have made, only to have a different answer, and then realize later, it's the best answer.
God is always in the business of our best.  He makes sure that how He cares for us, what He provides, how He answers, is not what would be just so-so, but the very best for our lives.
So, for today, in this moment in the quietness of my own heart, I'm breathing a simple prayer right now:
Thank you God, that we can come before you and ask you for anything.  We don't need to be embarrassed or ashamed, or even afraid.  You love us.  You sent your Son to die for us.  And Your Word says that we are to make our petitions (needs and requests) known before You.  Thank you that You care about us, and love us so much that You want to answer our prayers.
In a world where people really don't take time to care for one another the way they should, or listen to others troubles or needs, isn't it an amazing comfort to know that we have a God that cares about everything?  Not just the big stuff, but little things?  Everything!
God is there, waiting to listen to you.  Waiting to develop a relationship with you, because when we talk with people, when we listen to them, we create a relationship and we come to know them.  He wants to know you.  Take time to begin creating a habit of praying daily (or many times a day).
God wants your best life for you.  Amazing.  Just amazing.  He loves us and listens to our prayers.  And better than that, He answers them.
I am so thankful.