As a musician, and spending many years of my life as a Director of Worship and Creative Arts, I know one main thing about myself:  I love creativity.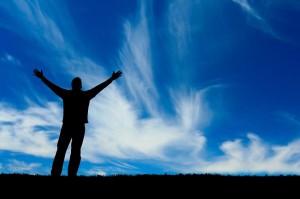 I was digging in an old box recently, and found about 4 Christmas programs from the late 1960's-early '70's.  I had cut them out of construction paper, had my older sister paint Christmas scenes in watercolor on the front, and had lined up a program for my folks.
Each year, my brother, sister and I would plan out a Christmas Eve presentation.  For whatever reason, I was put in charge of the elements and the order.  To think, I was 8 years old and started doing this!  Now, just two nights ago, I mapped out the children's program for the new church I'm attending.  I have to smile at God and how He creates each person and their gifts.
The program always consisted of us singing, my sister and I playing Christmas songs on the piano, my brother reading poems and the Christmas Story.  Some years we'd mix things up by changing things around and adding in new pieces.  My parents always enjoyed it so much.
Throughout those years of growing up, I watched my father, a college professor and inventor for Honeywell, my sister, an artist and poet, my brother, an amazing writer, and my mother, a fabulous creator of recipes and crafts, all use their creativity, as my family crafted the pieces of our lives.
I never considered myself much of a creator of anything, until I was asked at 12 years old to create the worship services at our church.  There was no one else.  It gave me the jumpstart to take my piano accompanying seriously and I actually got the initiative to practice!
Each service was like crafting a piece of art to me.  Every single prayer, offering, worship song, sermon, reading, drama, and element, became tools in my hand, like a palette, paint and paintbrushes in an artists' hand.
From that moment, until today, I have worked diligently to create services.  I have lived from Sunday to Sunday, for Sunday, and I have loved it.
Every single thing around me is put through a sifter.  Will it work on Sunday morning?  Can we use that to encourage the seeker, inspire the believer?  How can we make Sunday services more meaningful and engage more people to want to enter the church and engage in worship?
And then, it moved into creating a ministry called Best Life.  And I love and live to create something that will lead women to Christ and encourage them into a deeper more meaningful relationship to Jesus. 
I remember at one point, about twelve years ago, I was discouraged.  It was a low time for me and I was working part time at a church as a Creative Assistant to my pastor and part time in a law office.  God had put me in a quiet place in my life where I was questioning who I was and my purpose in this world.
People tend to make fun of the "artist."  They like to poke and joke about the verbiage we use, the way we think and look,  and how we express ourselves. 
At times, I would be embarrassed to be an "artist, " "a creative person."
One day, while sulking at my desk and working on a file for a case, I looked disparagingly down at my work and sighed.  My boss heard me and he said, "Okay, break time!"  He turned up a cd that I had brought in (some of my favorite music), ordered up some fun lunch from the local restaurant and handed me a small gift.  "What's this for?"  I asked.  "Because you work hard here, I appreciate you, and because you're you,"  he answered.  I unwrapped the present and saw a huge book on the life of Frank Sinatra.  I loved it and felt some encouragement.
My boss was always one to dig a little deeper to find out the source of the issue.  As he began to question and probe, I told him that sometimes I just didn't fit in.  My personality gets accused of being "larger than life." I said.  I'm too "expressive, artistic, emotional, use words that people can't relate to, hug people, tell them I care, pray for them etc."  A lot of people feel embarrassed or just don't "get me."
My boss looked at me across the table.  He said, "We're taking a mental day today, Kathy.  We're doing the things we love. You're reading, and I'm painting."  And he pushed his chair back from the table and grabbed his paintbrushes.  This phenomenal lawyer, with his amazing gift of art, grabbed the brushes to continue to work on a painting of a court scene.  I began to read about Frank Sinatra as we listened to quiet jazz music.  My boss, way up in his open loft was now painting his canvas, while I was downstairs at my little desk looking out at Lake Minnetonka.
And then he said it.  Words I'd stitch into the fabric of my heart and mind, to keep close to me when I needed it.  He put down his paintbrush down for a moment and looked down at me from up in his loft.  "Kathy" he began,
"never stop being who you are.  This world has far too many people who don't feel anything, don't care about anyone, never feel highs and lows.   But you have a privilege from God, the way He created you, to experience emotions at a deeper level. 
You live life at a deeper level, you care deeply, and you create an atmosphere that people feel they matter.  That is so important to this world.  We need you.  We need more people to be like you.  Don't you dare stop being like that!"  The words were written on my heart and they are still there today.
As I drive down the road today, out in the middle of the country, I stop for a small fawn and her mother as they jump across the road, their white, furry, tails bopping in front of me, their shining eyes looking at me.  I look up at the beautiful sky as the snowflakes begin to gently fall and I see the lovely green pine trees that are lined up in the field to block the drifts.  I glance in my rearview mirror as a big flock of birds are flying, and I see the horses prancing in the open field at the neighbor's farm, all such glorious creations from an Almighty Creator, God.
When we open our Bibles, we look at characters who were creative.  We can read about Noah creating an ark, Esther creating a plan, Nehemiah creating a wall, David creating music, and on and on the list goes.  Take a good long look, because there were many creative souls who invested in using their talents to make the history of the world.
As you open your eyes, each day, you take for granted that someone somewhere invented your toothbrush, created your cereal bowl, sewed the clothes you put on, and wrote and sang the music on your radio.  It's all forms of creativity.
God has gifted people with creativity.  You might think you don't have it because perhaps you aren't crafty or you can't sew.  Maybe you never wrote a song or can't play an instrument.  Perhaps you never created a recipe or you don't feel very expressive.  That's okay; you still have elements of creativity inside of you.  Look for them.
And the more that I look around and appreciate the things that God the Ultimate Creator has crafted:  animals, trees, the sky, the stars, humans, flowers, the ocean, etc, the more I am thankful for a Creator.  When I read about God, I see that He is jealous, angry, merciful, caring, loving, and forgiving.  He, Himself, displays emotion.  Scripture says we are crafted like God (made in His image).
After that day in the law office, I no longer feel ashamed or embarrassed because I feel a little more, experience a little deeper and think this was "the best day of my life."  I rejoice in the days of music and stars, of snowflakes and fawns, of smiles and encouragement, and of dancing with joy and saying Woo-who.
Creativity is not just something to be taken for granted.   No, on this day and every day, we need to be thankful for the One who created all of us, and created the world we live in.  I am thankful for Creativity.