Psalm 62:8  Trust in him at all times, you people;  pour out your hearts to him, for God is our refuge.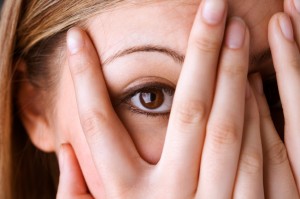 I pulled into the parking lot across the street and sipped my tea slowly.  The rain drops were splashing against the windows of my car, and I pretended with each drop that I was letting the hurts of yesterday leave my heart and mind.  Today, I needed to be strong and face my fears.  I started the engine, drove across the street, parked and got out.  As I approached the door, I breathed a quick prayer one last time for God to intervene….for God to supply the words….for God to show up.
Only a few nights before that, I laid flat on the floor pouring my heart out to God.  The hurts, the wounds that sliced me up, seemed unbearable.  And yet days later, I would need to face everything that had been hurtful and I would need to take the high road and  be Christ-like.
What happens when we are called to face the things that make us afraid?  What happens when we are called to stand up and look into the eyes of hurt and criticism?  Of harm and destruction?  Of forgiveness and mercy?
There have been many times that I have wanted to run the other way.  There have been times when I think that conflict-resolution are two words that are opposing sides thrust together.  There are times when I believe the other person does not deserve another chance.
And then I pour out my heart to God, and He pours out His to me, reminding me that He is grace-filled, mercy-giving, and peace-loving.
There will be times in this life, when you and I must face the giants.  We are up against things that we don't want to say or do, but as Christ-followers we must.
The giants can be anything:  a problem with an old boss, a friend, neighbor, co-worker, sister, child or a huge task that you must face that you feel you're not capable of doing.  It can be going back to face a place that you felt hurt and harm, or even shame.  It can be facing up to someone who abused you either physically, emotionally or even spiritually.   And when we stand in our little frail being and look up at how big the giant is, it can seem insurmountable.  But there is hope.
Since I started this thing called leadership, I make myself face the giants.  Something deep inside me, perhaps that love for God, calls to me and says, "You can do it!  Face up to it!  It will all be over soon."  And so I do…and it is.
Sometimes the facing up doesn't go as planned.  Sometimes it seems to create more wounds than I originally had, and I leave believing that somewhere journeying the highroad, I will be blessed.
Sometimes the facing up does go well and I thank God, feel relief and move forward on the journey.
But today, just in this moment, I am sure of this one thing:   that God dwells on the high road.  When I get to take it, I see Him there…and He is welcoming me with open arms.  His smile illuminates my soul and I feel whole and satisfied.
The giants will always be a part of our lives.  They are the tasks, the problems, the dilemmas that call out to us to step up and walk out in faith.
When they call, don't run and hide.  Don't turn and become bitter.  Face up.  Take the high road.  You will be so thankful that you did.
Begin today by trusting God, pouring out your soul about the situation, and getting ready to face the giants.  God is there as your refuge…you can hide in Him later….but for now…here we go!