Happy Mother's Day!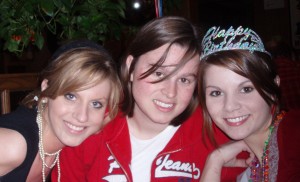 "Mom, do you think we should tell him?" Jenessa asked me as we were perusing the towel isle last night at Target.  "No, let's just smile and walk on by," I answered.  A forty-something, rather nervous man, was grabbing an unfortunate kitchen rug with big tomatoes on it, while heading to the Mother's Day card selection.
Jenessa and I split up. While I headed towards the hamburger buns for a grill out the next afternoon, I almost bumped directly into an older gentleman as he was picking up a kitchen knife set and looked at me shrugging his shoulders. "Would she like this?" he asked me.   I smiled and directed his attention to a fabulous brightly flowered pitcher with matching glasses.  He grabbed them, thanked me and headed to the checkout lane.
 Jenessa and I met up at the jewelry counter, as she dug through the clearance items for some fabulous $4.00 ring she'd been eyeing for weeks.  We looked at each other in horror as the little girls next to us said to their daddy, "Let's get Mommy a necklace."  The dad answered, "No, girls, let's get to the counter with the card, I already got her bird seed for the feeder."  Jenessa rolled her eyes and said, "Oh…my!"
We made our purchases and headed to the checkout counter.  Jenessa looked at me and asked, "Mom, did you ever get something awful like a tomato rug or birdseed?   What was your favorite Mother's Day gift ever?"
I grabbed my bag, headed for the car and hugged my child.  I said, the best gift I ever received, other than your life and that of your sisters, was simply this~ you were about 4 , Chandra 7 and Alexis 10, and you walked into my room at 8 a.m. with a bowl of soggy Rice Krispies that had brown bananas haphazardly sliced on top, and you bobby-pinned a chain of dandelions to my head and kissed me, squealing Happy Mother's Day!!
Jenessa said, "Mom, you can't tell me you'd rather have had that, then some fabulous necklace or cd or bottle of perfume, right?"
As we got in the car for our long trip back to the farm, I said, "Jenessa, Mother's Day isn't about the good gifts or bad ones…it's about being a mom…and there's nothing more rewarding than that.
Forty-eight years gone by, and three girls now all grown-up, I've had my share of Mommy experiences.  Some have been thrilling. Some have been heart-wrenching.  Some have been challenging. Most have been wonderful.   I wouldn't trade them for anything.
 Today, take a minute and love deeply, hug tightly, and value your children. Tell them that you love them. 
Forgive them if they arrive with a tomato rug or a bag of birdseed.  Look deeply into their eyes and remember the moment that you were handed their little bodies nestled in the hospital blanket.  Remember the moments that they rode their first tricycle, played their first softball game, or danced at their first recital.  Remember when they baked their first cake, attended their first prom, or got their first job.  They grow up so quickly!
Life is short. Really live the moments, Mom.  Today, and always, your job is so very important.