For years I have been interested in every aspect of the Christmas Story.  It reminds me of a beautifully wrapped gift.  At the beginning of your journey of discovery, you see Mary and an angel, Joseph and an angel, an innkeeper, animals in a stable, a star, shepherds and more angels, and later on, scripture tells us that some wise men traveled from afar seeking the child.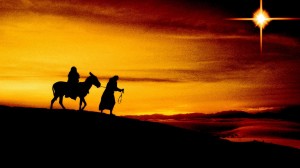 I love to think about how the story unfolds.  In my mind, it seems like this  present that is ready to be opened and explored.  The paper is a lovely foil that is shiny and slippery and held together perfectly with some clear scotch tape.
On top of the story, inside this box called the Bible, is a beautiful bow, connected to brightly curling ribbon, and as we pull on it, it releases and the story unfolds from inside, pouring out into our hearts and souls. Spilling over until the very essence of our lives and making up who we are because of what we believe.
As we begin to unwrap the story of Christmas, I want us to look at the mother of Jesus, Mary.  In Luke 1:26 the story begins.  There she is.  She is young.  Her name is Mary and God sends the angel Gabriel to Nazareth, a town called Galilee.
This virgin is pledged to be married to a kind young man named Joseph.  Joseph is a descendant of King David.  And let me just remind you for a moment that King David is the one young man that scripture tells us "And when he had removed him, he raised up unto them David to be their king; to whom also he gave testimony, and said, I have found David the [son] of Jesse, a man after mine own heart, which shall fulfill all my will."  Acts 13:22 "A descendant of King David,"  but let's keep focused on this woman named Mary.
The angel, Gabriel shows up right in front of her.  How she must have been afraid!  But he says, "Greetings, you who are highly favored!  The Lord is with you."
At this point, I usually get chills.  To think that God is looking down and saying, "Oh, look, there's Mary.  I love her.  I think she's the perfect choice to be the mother of my son, Jesus."
He continues to comfort her, but she questions him.  How is this possible since she is a virgin?
Vs. 35 states, "…The Holy Spirit will come upon you, and the power of the Most High will overshadow you.  So the holy one to be born will be called the Son of God."
So here we are.   It's a regular day.  Mary's day dreaming about this new husband she will have soon.  And there, in front of her, appears an angel telling her she will be the mother of the Son of God.  She will be the mom. Not her cousin, Elizabeth.   Not the girl next door.  It's her.  It's Mary.
And for all of us in the world who think we could handle it, well, I doubt we could.  I know for a fact, I would be overwhelmed and scared senseless, as would most of the women I know!
Mary is no longer afraid, she is no longer concerned about herself.  Instead, she answers point blank:  "I am the Lord's servant…may it be to me as you have said."
And not only has she resolved that this is what she will do, but she has the best attitude of humility that I've seen dished out in a long time.
Luke 1:46 "And Mary said:  My soul glorifies the Lord and my spirit rejoices in God my Savior, for he has been mindful of the humble state of his servant."
And in this moment, as we continue to pull the ribbon off of the box, I want you to take a quiet breath, in a quiet corner and think with me.  Her focus is shifted now.  It is not:
Why me!  I can't do this!  What are you thinking!  I'm scared
Instead it is:
I am praising you.  I am worshiping you.  Who am I that you should even consider me?
And there it is.  The bow is pulled off and we see her frame of mind.  Humility.
I recently had the opportunity to experience a situation where some very well known celebrities were serving next to some of our staff.  These individuals had truly forgotten their roots, and instead had stepped into the place that I fear, that place of pride and self-centeredness.  It was so shocking and distasteful. 
But in those same moments, during my frustration, a homeless man came in, brought in by a friend of ours.  "He needs some food and I told him to come in, that we'd share."  I watched my friend share her lunch with this man.  He looked into my eyes and I saw deep past the words he was saying.  It was something so lovely, so beautiful.  It was gratitude.  It was thankfulness.  It was humility.
"Thank you, so much for the food.  Thank you so much.  I am so thankful to you."
And in that moment, a moment I will never forget, I saw the spectrum of the alphabet.  From A to Z.  From Pride out of someone who had everything, to Humility from someone who had nothing.
My story today comes from Mary's humility.  Oh that I could be like her.  Oh, that I could say, "Whatever you have for me, God.  Bring it on.  Because who in the world am I that you even have the time of day for me?"
Let's pray:  Dear Jesus, at times, others like to judge what's in our hearts and minds.  They think they know our motivations.  I can only assume that dear Mary had many a person in life who thought she was filled with pride, felt jealous of her ability to be the mother of Your Son, and wondered what made her so special.  Isn't it great, God, that we don't have to worry about what You're doing in others, we only get to look at what's in our own hearts, and deal with that.   Out of Mary's heart, she spoke the glorious words that revealed why she was chosen, as she said, "My soul glorifies the Lord for he has been mindful of the humble state of his servant.""  Help us to focus on You and the birth of Your Son.  And Jesus, thank you for Mary."  In Your Name, Jesus, Amen.