My girls are infamous deal shoppers.  They are the crazy-ones, who get up at 3:00 a.m. for the "door busters" sales that take place on Black Friday.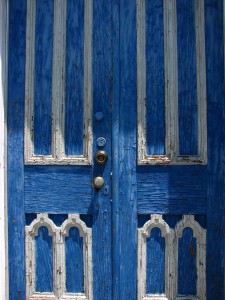 They will do their best for the best deal.  They have no fear.  Nothing stops them. 
So, I wasn't surprised when Jenessa came to me a couple of weeks ago and said, "Mom, there's the set of towels I want, advertised in the "door buster" sale. (she's getting married in 3 weeks).   Do you want to go with me?" 
Storming the doors of some store for the best deal is not my idea of fun.  Hear me heart… I want the deal, but I don't feel like doing the work to storm the doors.  Getting up early, pushing and shoving past people with their hair messy and a crazed look in their eyes…not my idea of fun. 
But this morning I realized that God has been stirring in my mind, now, these past few months, to open up scripture to the "door busters."  And so, I sipped my ice tea, patted my dogs head, and opened up the Word of God to the book of Esther.  Yesterday, God called me to the book of Daniel, to study being thrown in the lion's den, and the day before to Genesis to study Noah and the flood. 
I felt His continual prodding, day and night, to stretch and look farther, deeper into His Word and my lifestory, and to step up to the doors He was opening. 
These stories are made up of our heritage.  These are the characters that are the "Door busters" of this life.  They are the people we look up to, and the stories that we read and re-read.  They are the message-bringers to our hearts and souls. 
There is Daniel, refusing to worship any god except the real God.
There is Noah, leading animals into an ark, two by two, when people think he's crazy.
And today, there is Queen Esther, saying to Mordecai, in Esther 4:15b, "I will go to the king, even though it is against the law.  And if I perish, I perish." 
Some would say they were crazy.  Some would even say they were plain stupid. 
But they are the first ones at the door of the unknown….of the impossible….of the unseen saying…. "I'm here…bright and early…ready to go for whatever God has.  My faith has moved me.  I'm walking through now…and with God's help…busting down the impossible for the best deal….God's deal…the real deal….the only deal." 
I want to continue to listen to God's voice, don't you?  I want to look for Him in the stillness of the oriole sitting on the bird feeder, to the friend who phones words of encouragement, to the scriptures that tell us God blesses those who are faith-filled. 
Join me this week in busting down any of the doors that God says we need to go through.  His Word tells us in Rev. 3:7 (this is my life verse right now)
"  These are the words of Him who is holy and true, who holds the key of David.  What He opens no one can shut, and what He shuts no one can open.  I know your deeds.  See, I have placed before you an open door that no one can shut."
All praise, honor and glory, to the God of the open doors.
Let's be Door Busters, faith builders and mountain movers.