The wind was whipping around the old church doors this morning as I opened them and peeked in.  Saws were buzzing and dust was flying everywhere.  I heard the hearty laughter of men's voices as I said, "Hello?"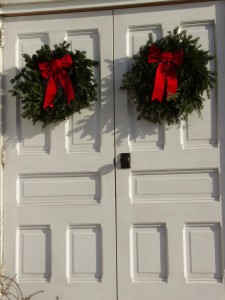 These fabulous men from the neighboring churches of Kerkhoven, MN, were working on the bathroom of the church.  The insulation and sheetrock were going up today, and they were sending me to town for supplies.  We need you to get…..and then it was like a foreign language….I said, "Write it down for me, please." 
Runnings…that's a man's store, isn't it?  Have you ever been there?  Last time I was there, Farmer Dean was looking for something for the light outside the church, and I made my way through the Christmas candy, relishing in the fact that they offered up bags of Brach's Candy that I used to get when I was little….some four hundred years ago.  I know nothing about all of the other doo dads in there, so I am hesitant.  I put the farm truck into reverse and made my way towards Benson. 
The clerk in Runnings has officially looked at me with my list now, and deemed me an idiot.  "Mam, this is Runnings.  You need a lumber yard."  Okay….I'm heading off to the lumber yard with 45 minutes til closing.  Where is the lumber yard, anyway? 
The snow is gently falling now, and I have had a confused clerk load up supplies, wondering if I was from another planet.  "Ask me about changing the key on your Christmas carols or what the lineage of Jesus looks like, or even some tips on great sugar cookies for your Christmas gathering…..but lumber and sheetrock, yep…I have no clue. "  The apprehensive man, places big boards and plywood in the back of the truck, and now I am driving and reminded of life, as I look in the rearview mirror. 
It was several weeks ago that I sat in the front pew of Frank Lake Covenant.  My husband and I had given it all.  We were completely emptied of resources, energy, prayer, hope, and there was no bathroom.  The sweet Bible study women, the studies growing in size weekly, looked hopefully at the room at the back of the church, wondering when we'd have a bathroom. 
I prayed.  No, I cried out to God.  Not just the kind of crying where you yell out, but where you yell, cry, and say "That's it!  That's all I've got."  I pleaded and said "I'm out of everything including ideas.  You'll have to help.  This is your church, your project, your work."
 And in the quiet stillness of the sanctuary, I heard in the stillness of my heart the words to the old Christmas carol, "O come, Thou Dayspring, come and cheer,Our spirits by Thine advent here; Disperse the gloomy clouds of night And death's dark shadows put to flight. Rejoice, rejoice, Emmanuel, Shall come to Thee o, Israel!" 
We had been studying the name, Emmanuel, in our Bible Studies this past week.  It means, "God With Us."  How could I be so hopeless, especially at this time of year?   This very same God, who sent His Son Jesus Christ to embody the babe in a manger, offered love, salvation, and hope, to a weary world. 
This very same God is in our everyday lives, watching, waiting, wondering if we will seek the Christ child, or will we continue to go it alone.
  Will we continue to strive to make it work, when if we just gave in, emptied ourselves out, sat in front of Him and said, "That's it…that's all I've got more often,"  He could actually take over and do some good work!   I breathed a prayer of repentance, told God I had faith, and closed the doors behind me. 
Two days later, we got a call from the men from the Helping Hands of the neighboring town. They would be over to help finish up the bathroom.  Of course I heard my college-professor- Dad, in my mind, saying once again, "Kathleen, why do we pray and pray, and then we are surprised when He answers?" 
I'm back at the church now, and the warmth of the lights, the stained glass windows, and the merry spirits of the workers, warms my soul and gives me energy. 
There is a God, our God, who sent the Messiah, a Savior, to us.  Yes, He offers help, hope and healing, but He also wants you to be encouraged today, just as He encouraged me.  Emmanuel is with us.  He is with us in the little things and the big.  He is with us in the sadness and the joy-filled days.  We are not alone. 
Emmanuel, God with us.