I pulled the cookies out of the oven and added lemon slices to the plate on the table, and looked over at my husband.  There he was, pacing back and forth, nervous as could be.  The men would soon arrive.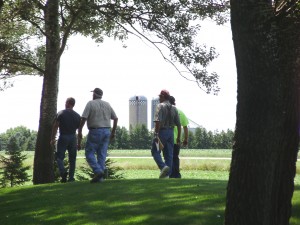 The weeks have passed and the journey that we are on now is a wonderful, foreign one to us.  It seems that for seven years now, we have been on this road together and enjoy laughing about it.  Farmer Dean and I never know where God will lead us next. 
On the journey, a couple of months ago, God opened the doors of opportunity for us to purchase a church for the headquarters for this ministry called Best Life. There are days that are exciting, and days that are challenging, and days where I have to unplug the phone for a quick retreat away from the world, into the arms of a loving Father who is a dream maker- and life changer. 
Today, the building movers, the excavator, the foundation man are coming over to move us to the next place on that road of moving the old building into the Grove. 
"Are you nervous?" I asked Farmer Dean.  "No, just wondering how it will all work together."  "For good…" I answered and smiled.  We took a moment to pray before the knock arrived at the door. 
I watched them walking across the yard and studied each one of them in detail.  A Farmer, A Building Mover, An Excavator and a Brick Layer….and God knows each one by name and gave them the gifts to allow them to have their expertise.  They paced and talked, and talked some more. And I could provide the things that God has given me in my expertise…..baking and praying.
After they chatted, planned, and felt confident in what would happen, we sat at the kitchen table for ice tea and chocolate chip cookies.  The man laughed and chatted, and I looked over their shoulders and out the window.  There stood the empty spot in the grove, now even emptier since Deano cut some more trees around the edge, and I said to myself….this is it….this is where dreams meet reality. 
So for today, on this marvelous journey, I rejoice and thank God for giving us dreams that are bigger than little Southwest Iowa girls and little farm boys that love their trees…..and I say….Here we go, God.  And wow….is it ever a journey!