The day was one of those days that plays tricks on your mind.  You know the kind I mean.  When the breeze is blowing, there's a coolness in the air, the sun is bright, and you're wondering where your children are so that you can get them onto the school bus.  It felt like schooldays today as I drove up to the church.  It will be one of the last times I am here.  A sadness settles in upon me, and yet, I can't place it.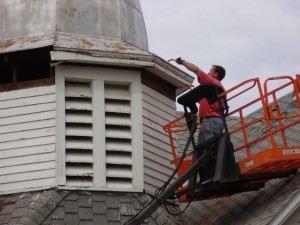 When I arrived at the little church, I saw the tv crew already assembled and huddling over their cameras.  As kind as they are, I don't know how many more times I can say into the camera, "Yes, I'm scared."  But, I am thankful for the media coverage, if not for the glory we can give to God, but also for the benefit it gives our ministry.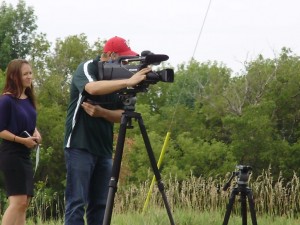 The movers have not arrived as of yet.  I settle down onto some hard beams and wish that I had thought to bring a chair….or a glass of tea…..or a steak dinner….but alas, I have brought nothing but anticipation, and an anxious feeling.  What is that about? 
I began to pray.  I prayed for something from the very gut of my being….I asked God to send friends.
 I don't want to be alone here today.   But the only friends I knew could possibly be available would be Dennis and Marie, the sweet folks who sold us the church for $1.00.  And I don't want to bother them. 
The moving crew arrives to begin the preparation for the removal of the steeple.  I had begged and pleaded for each ear that would hear me, to let the steeple be.  But, to no avail.  The electricians, the movers, and basically anyone with a tape measure told me it just wasn't going to work.  The lines are too low, the steeple too high…it will be calamity.  I gave in and began a jittery stretch of time sitting on my hands waiting for the minutes to pass.  Why?  I kept asking myself why was this part was so difficult.  I couldn't place a finger on it.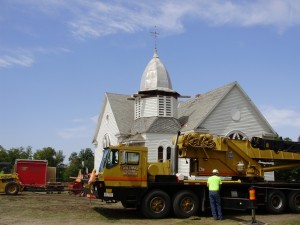 Once the movers raised a huge cage up to the roof, Matt yelled down…. "wasps…and ….bats! Kathy!!!!"  Oh dear…step up the prayers I thought.  "Can you get some wasp spray?" Matt asked.  Another bat flew by my head to hide in the trees above me.  The town is about 10 minutes one way, and so I dialed the phone for the Johnsons who live down the road.  I told them what was happening, drove to their home and borrowed bug spray, and a few minutes later, they came over with their camera to follow the removal of the steeple.  Answered prayers. 
Time flew by as we chatted with the tv crews and each other.  It became something rather fun….not drudgery, as we waited for the men driving all kinds of machines back and forth over the dirt, sawing wood posts and preparing a crane to lift off the large steeple.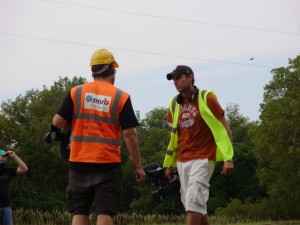 I began to breathe heavily and decided to walk around the building and headed to the peaceful gravesites in the backyard.  In that stillness, I accepted my fear.  I was not afraid of something happening to the steeple, because I trusted God and the movers.  I was however, afraid that once the steeple would come down, it would never go back up.  I had lived many years in my first marriage, where the girls and I lived among the "unfinished."  Unfinished is all we knew.   And then I knew, it was something biting me from my past. 
I laid it before God's feet immediately, and went on, almost in anticipation of what was to come. 
Farmer Dean called me to tell me this:  "You know how I hate to have things undone.  They said we'd need to leave the steeple off for about 2 weeks, and let everything settle.  Then, we'll get it repaired and right back up there!"  And I believe him.  I trust him.  God has blessed us with a Godly man who honors his word. 
It came time for me to leave as I watched the workers hook the crane on the old tin steeple and prepare to lift it off.  Mr. Johnson watched intently while Mrs. Johnson comforted me.  We had talked of old days gone by of the Frank Lake Covenant church, and thoroughly discussed its weather vane, windows, and walls.  We talked of families and God, of childhood and sadness, of blessings and answered prayer.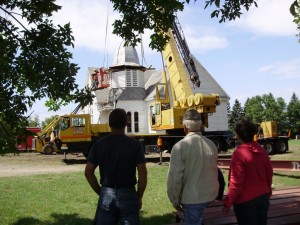 But my watch rang out that it was time to go sit with my dear friend, Mary, and so I prepared to leave as Farmer Dean arrived to take my place.  With his cheery smile he grabbed the camera and said he was ready to cover where I left off. 
And I drove down the old dirt road, looking back in my rearview mirror…just for a moment….thinking of my past….and I blinked a tear back and said to the steeple….. "Here is the church…here is the steeple…..open the doors and see all the people."  Yes…God….bring the people in, just as they came to this building in 1900, and 1920, and 1950.  And let the steeple stand as a representation of new life….new hope….and the new things God will do.