I'm having a hard time lately with waiting.  Okay, I freely admit it….I have a hard time ….all the time…waiting.  It's my least favorite word, and least favorite thing to do.  And whenever I'm waiting, it always reminds me that waiting develops character.  So, even though I complain, I know it's supposed to make me better….make all of us better.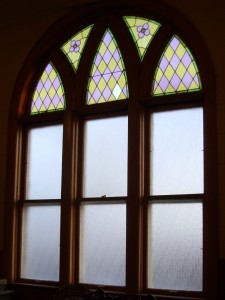 Lately, I've been waiting on phone calls, emails, face book responses, women's ministry leaders and pastors.  Wait for that person to email back, for this person to answer my message and call back, for that leader to meet with another leader, so they can call back.  Ugh.  It's like being little and waiting for Christmas Eve to arrive.  It seemed that the distance between the beginning of December and Christmas Eve was about 17 months long. 
This past week, I waited for my husband.  We were at Frank Lake Covenant Church and had decided it was high time to work on the floors.  Now that our carpenter is officially on a break, we needed to do some desperate clean up. 
Deano rented a big machine and brought home jugs of wax.  I made a few calls and found out what it means to clean floors from the 1950's era.  It was tough.  Dean's job was to move the pews.  They were crowded and our women's Bible Studies were having a hard time because they were cramped. 
But the more I got excited about my job, the more distractions we had.  First, the furnace wouldn't start.  Then, the nice furnace man came out and got that going, after a short bit of reminiscing (okay…I waited and it seemed like hours) about high school days with my wrestler husband. 
Okay…that's done…back to work.  But, I waited while Dean and Brother Gary, chatted about something farm related.  Still waiting. 
The day was wearing on and I was…. waiting.  Once I would get a spot waxed, Dean would move pews.  I'd wait.  He'd move.  I'd wait.  He'd move. 
I'm sure that I'd never make it in a game of chess.  The thought of it makes me want to cry. 
So, in the midst of my waiting, I pull my chair into the center aisle and sit, listening to the quiet Christmas music that is filling the sanctuary, and I close my eyes.  Warm sunshine fills the room and dances off of the lovely gold and purple hews of stained glass and I find myself enveloped in a feeling of peace…..and rest.  From…..waiting.  And you know what?  It's really very lovely. 
I began to pray and to think…..and then I began to get ideas…creative ones at that. 
Imagine….being still and quiet, and letting God permeate your mind, soul and heart, so that His plans would be firmly rooted.  Such a concept!
My sweet husband had finished spacing out all of the pews perfectly and smiling he said to me, "Why are you smiling?"  I looked back at him, as the sun beams danced down on my face and said, "Nothing….I'm just waiting." 
And here I am….in the waiting.   I guess it's not so bad. 
"But let patience have her perfect work that you may be perfect and entire…wanting nothing."  James 1:4 KJV 
"Not only so, but we also rejoice in our sufferings, because we know that suffering produces perseverance; perseverance, character; and character, hope. And hope does not disappoint us, because God has poured out his love into our hearts by the Holy Spirit, whom he has given us."  Romans 5:3-5