The day was cool and that in itself was an answer to prayer.  The sun was bright in the sky, with big puffy clouds that looked like whipped cream.  I craned my neck out the window to take one last look at where the church had stood these past 112 years, as I knew we would shortly experience its last service in the location by Frank Lake.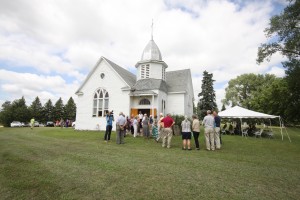 Mr. and Mrs. Johnson had worked like troopers to get things set up.  I was relieved for them and thankful that their kind children and grandkids rallied around them for hard work and generous support.
As I walked in this morning, I took a deep breath and said, "God, let this day be honoring to You.  Let it be a celebration of the past and an anticipation of the future.  But mostly, let it all be about You." 
Farmer Dean carried in boxes and tables, while the HGTV film man followed us around, ever so calmly continuing to be in the way.  I nervously set up the easels with the old pictures that Mr. Wendall Falk had shared, along with several of Mr. Johnson's family that I had blown up at Sam's Club and framed in big black frames.   As I gently set them on each easel and arranged some burlap around the tops, I looked at them and felt a strong connection that they were once standing in that same spot, probably getting ready for a service to begin, just like I was. 
There was a heaviness that I felt.  I couldn't quite pin it down, but I continued to set out big pots of ivy and ferns and arranged them on the altar. 
As the tables were being set up, I prepared the ice tea pot and glasses, and set out the boxes of ginger snaps and sugar cookies that I had baked.  The red checkered table cloths were set to go, and I looked up to see Mr. and Mrs. Johnson walking in with an air of energy and excitement. 
A sweet dear soul named Dick came in and spoke softly.  "Right here, Kathy," he said.  "Right here is where Dennis and I stood and we looked at each other and said, 'it will have to be torn down," and then his voice choked up and tears gathered in the corner of his eyes.  He could no longer speak, and so I added "But it isn't going to have to be torn down or burned, is it!? Thank God for how He works in such wonderful ways!"  And we agreed as I hugged him and felt so blessed that God had stirred in the hearts of these two dear souls that when we are so often, at times, in the eleventh hour, God comes in to the rescue.  God partnered a little girl from Southwest Iowa, who had hopes and dreams to house a ministry (and deepest dreams to have it be in an old building….let alone an old church….joy unspeakable!) with some hearts that treasured their sweet building and what God had accomplished inside of the walls.  Oh that fabulous God that we have!
I looked down at my watch and surveyed the room.  I took a deep breath and glanced over my music as people started coming in the sanctuary.  It was early!  The kind folks that made up the Swedish Choir were trickling in to prepare for their rehearsal.  But I was taken aback by a wonderful woman who came up and took my arm and looked deeply into my eyes.  This stranger said words of comfort to me that I will never forget.  She said, "Kathy, if anyone anywhere does not believe that this is God's will and that God orchestrated all of this, then they just don't know God."  And just like that….she walked away.  My eyes were filled with tears and I knew then what the nagging feeling inside was that I couldn't put my finger on…..I felt a responsibility.  I felt an overwhelming burden that today would not only bring honor to God,  but I knew that I needed to make this service as enjoyable, as comforting, and as promising for those in attendance as I possibly could.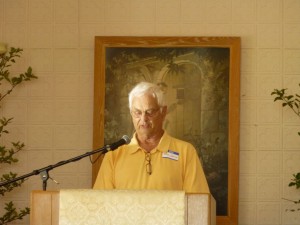 As a Director of Worship & Creative Arts for many years, I have planned so many services that my family teases me that I could plan and deliver services in my sleep.  And many of those services have come connected with the strings of a high level of responsibility.  This service…this one would be included with the many others that I felt so deeply about. 
Crowds of people began to trickle in, many older folks that brought memorabilia of days gone by were sharing photos and such and conversing over long ago.  Mrs. Johnson spread them out on a table for folks to look over, while Mr. Johnson and the men made sure that the tent was secured and people were comfortable.
An overwhelming sense of comfort came over me, a strange peace of sorts, as I said hello to the only surviving pastor that served the congregation in the 1950's.  He was funny, he was kind, and when he spoke, you had no choice but to laugh. 
As the service began, with many people there and much media flittering about, I looked around the congregation and whispered to God, "Just think….long ago, this would have been a normal Sunday service."  And the event began. 
Dennis Johnson shared some details of the church, along with the dear grandpa I spoke of above, Dick, and then Pastor Richard Lundgren shared memories of the past.  Inside jokes were laughed at, even if we didn't understand them completely, and the Swedish choir took its place.  The music filled the room and was what I tell people as a worship director, wonderful worship that transcended above language.  When we worship God, it doesn't matter if it's in another language (Swedish in this case), because you can still hear the sounds, feel the emotions, and share in the feeling and the flooding rush of the Holy Spirit, who dwells within the praise.  That's what we felt as the deep rich harmonies of the group echoed throughout the building.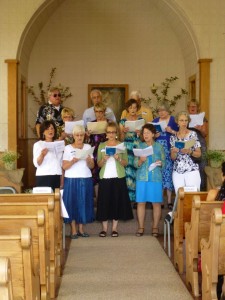 Our worship leader and friend, Dave Herring led several old hymns, with quiet James playing guitar along with him.  And good-friend, Pastor Lewie blessed the past and promoted the future.  
As I took my spot to close with the song "Praise the King," my voice cracked a few times at first.  Normally, as a vocalist,  I would have cringed.  But not today.  I was fighting back emotion and tears.  I knew that to sing those words and to allow my heart to fill the room with how I felt, would equate in tears being held back. 
"Praise the King, Praise the King, let it ring….Praise the King."  My friend, Cindy Morgan wrote that song and those words.  As the congregation joined in with me, I felt such gratefulness, such relief, and such amazing love for God. 
To think that God, in His infinite wisdom, would allow Frank Lake Covenant Church, a building rich in history of music and revival, to partner up with my heart, which is, as well, rich in history of music and revival, and to know that He worked out all the details, orchestrated the timing, and put everything together, is still something I can't quite grasp. 
But for today, I know that I am thankful to Dennis and Marie and their kind hearts, to dear Pastor Lundgren and the Swedish Choir, to my sweet neighbors who prayed and prodded, to that kind grandpa Dick, to Eric who thought to put it on Craigslist, to Reed who covers my story, to the generosity of those who cleaned the church, to the encouraging words of strangers who I never knew and may never meet again, to the sweet friends who came to support us,  to the wonderful man who gave me a picture of the church from 1914, to my friends Donna, Dave, Kathleen, Gma Mary and the Best Life team for believing in me, to my husband Farmer Dean for buying us a church to work in, for my sweet sister in law, Mary for working with me, and for all of those dear souls who came to the goodbye service to one last time cherish and relive the life that took place inside those walls. 
But above and beyond all of those fabulous humans…hear me say it one more time……to the God who sent His Son Jesus Christ to die for my sins, who loves me like no one else, and who put a vision in my heart for the lost and the hurt…..to You, God, thank You.
May Frank Lake Covenant Church continue to house worship and service to You alone, our God.