As I sit here today and look over my shoulder out our family room window, I see a big beautiful old building.  It has become a friend to me.  And I say to it this morning, "Welcome home Frank Lake Church.  I am so glad you're here."  But today is focused on the end of the move, and I want to take with you back to last Tuesday and let you travel the twenty-six miles journey with us, so you can understand fully the joy that my husband and I feel….the joy that our Best Life team feels.  Here we go….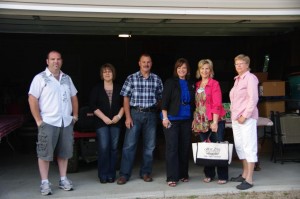 It was Monday, and as we stood at the church site, our mover, Jim Thein, told us our prayer requests for the day.  We needed to pray for cool weather, because without that we would not be able to have people's power turned off.  We would need no rain, and no rain before that day that would create mud.  We would need to pray for all of the electrical companies that they would move quickly.  Check, check, check, I made mental notes and began to whisper my prayers to the God of details and order.  The rains had fallen hard the day before, and although my husband, the farmer was elated, I was very nervous. 
Monday had brought bright sun and a cool breeze to dry the rains, and as we stood one more time looking at the church and its home, I began to prepare mentally for the next day.  We would have much media and tv crews following, so I wanted to walk through what I would say that would honor God. 
My hand brushed over a big old stone that had stood for 112 years to hold up the building and I looked up in the sky at the three beautiful sparrows that circled the setting.  "Thank you, God," I said.  "Thank you to each and every person who lifted these stones out of the neighboring fields and used them to stack on top of one another to create the very foundations."  Tomorrow would arrive and the church would be with us.  I looked back over my shoulder.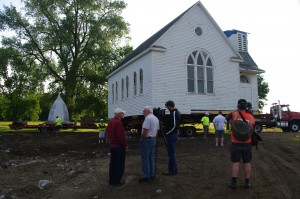 Tuesday morning we awoke to bright sun and cool breezes.  God had answered those prayers.  My team arrived giggling and energized, ready to watch the monumental event.  We headed to the church site.   I can still hear Jason Davis telling the crowd, "Look at this, people, because you'll never see anything like it again in your lifetime."  I'm sure he is correct.
The tv crews, newspaper people, friends of Frank Lake Cov, Best Life team, family, and moving crew held hands with me in a big circle as we set out to pray and trust God for the day.  I prayed over each one and asked God to protect and go before us.  I shouted, "And everyone said…AMEN!  Now, let's move a church!"  Cheers from the crowd were heard as we jumped in the van to follow ahead.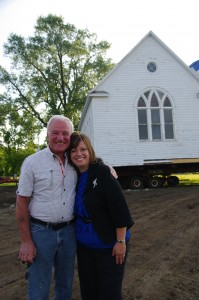 There were several moments during the move that will be etched in my memory for my lifetime.  I want to share them with you today. 
 1.  When Frank Lake Covenant Church came around the very first  corner, just a stone's throw from its original location, Dean and I stood hand and hand across the soybean field and watched it from afar.  It was overwhelming to hear the trucks roar, and see it moving off of its former home.  But as I looked at it side by side to the sweet Frank Lake, its namesake, I felt a tear run down my cheek.  It would never be with its friend, the lake,  again.  They would no longer be together.  And the church moved on.
2.We traveled down Cty 33 and turned to join a group of about 50 people waiting and watching from Bethesda Lutheran Church.  There they sat, these wonderful people, waiting to cheer us on.  They had coffee, donuts, cookies and excitement!  The generations spanned from little children of 3 and 4 years old,  to several in their 70s and 80s.   A kind grandpa who was in his 80's and said to me, "I'm so proud of you, young lady!  Just think, they'll have her moved to your spot this afternoon, you can have church there tonight!"  I laughed.  He was wonderful as I watched him stand on his old blue ladder and watch for the church to come by.
As Frank Lk Cov turned the corner and nestled in on the road next to  Bethesda Lutheran, I began to cry.  Side by side they stood as the Lutheran Church rang its bells out to say a fond farewell.  The little children yelled a prayer, "God bless this little church, Amen."  And I             thought about the stories I had heard, how these 2 churches had shared choirs and music from the early 1900's until the 60's.  The two friends had done great work together, and now the one waved goodbye as it sounded its forlorn bells, aching to say goodbye.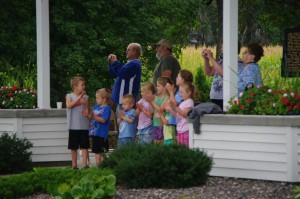 As the day wore on, we had served over 40 lunches to work crews, family, friends and strangers and I felt an exhaustion coming over me as the camera crew continued to ask me how I was feeling.  Our dear pastors and secretary came to be with us and I now listened to my husband telling stories of what had happened up to now.  
3. And then we saw it….coming up over our fields of corn and soybeans.  It was big and beautiful and very majestic.  I looked at my dear husband, Farmer Dean, and he began to weep.  It had been a long journey for us.  Months of prep and planning, praying and trusting, and we were right here, right now.  Much had happened, but we had so much support and continued assurance from God that we were on the right path, His path, that I hugged Deano and said, "it's okay to cry." And I joined him.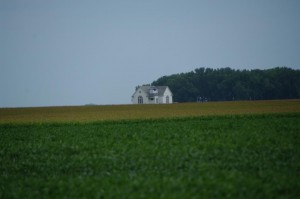 Our friends stood in a huddle and we sang worship songs like "How Great  is Our God" and "How Great Thou Art."  But when the church arrived, we sang "Amazing Grace" and cheered together!  Mr. Davis leaned over and said, "With all of its tradition and heritage in music, isn't it wonderful that  you are ushering it in with worship."  He was right….we were ushering it in and welcoming it to a new home. 
I look at my sweet friends, Dennis and Marie Johnson and am worried that they are okay.  They say that they have said their goodbyes, but I'm sure this will be an adjustment, as each person deals with change in their own way.  They have been so kind, so supportive, and I can't imagine Dean and I doing this without them.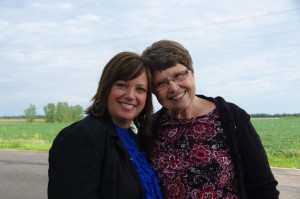 Someone says to Uncle Gary, "How'd they rope you into this?"  He laughs and smiles and says, "Well…..I volunteered!"  He stands next to Dean's folks and our Conference Coordinator, (his wife) Mary, and I feel so glad that they are with us. 
My two daughters are here, I only wish that Chandra (middle daughter) could be here from Kansas, but she is in finals.  She calls to say she is with us in spirit and prayers.  She is the impetus of the ministry, because it is an attack on Chandra that started this journey. 
My team is rushing about and serving people and chatting with strangers.  I feel so proud of them.  I look at who each one is and has become, and how God is using them, and thank God openly for His goodness. 
It took about 7 hours to get it across those miles.  Dean and I felt elated every second of the journey.  Friends and neighbors hugged us and welcomed the church to the neighborhood.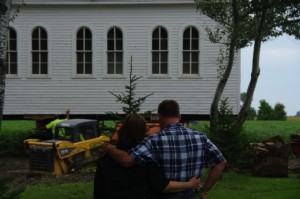 And Dean and I said our goodbyes to everyone and walked silently hand-in-hand to see the church.  So overwhelmed and full of fatigue, I looked up so high at the roof of the church and said, "It's hard to believe it's finally here…in the grove."  Dean was already making plans for this and that, what needs to go here, what needs to be repaired.  And God's words rang out from the original scripture He gave to me as I began to pray and seek Him…the scripture from Isaiah 58:12b, "Your people will be known as restorers of broken walls…."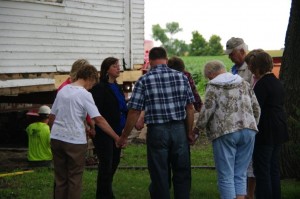 This morning is cool and the sun shines through the big windows.  It is hard for me to get into the building for another couple of weeks, as it is awaiting our foundation man to come and lay the block that it will sit on.  I managed a final interview inside with HGTV and thought for a few moments I would have to live in the church for a few weeks as my fear of heights overcame me while climbing the 14 feet up the ladder.  But, I made it in and with some coercing from the camera crew and Dean…I made it out. 
I am longing for the days now when I can run in and play the piano, worship God, pray, work, and have our Bible studies.  We are soon preparing for our next conference in Bloomington, and I look forward to the many people who say they will volunteer to help pray and prepare for our conferences, as we sit inside Frank Lake Covenant and pray, chat, worship and work. 
Frank Lake Covenant has served God and people well for so many years.  It has had a 32 year rest and now God has awakened it.  It is now up and ready to serve God again. 
And I hear within its walls and windows a gentle calling to my soul…..Awake Kathy Weckwerth, awake Benson, Monte, Kerkhoven, Sunberg, Murdock, Willmar….it's time to arise and serve.  
Welcome home, Frank Lake Covenant.  Here we go!