I jumped out of bed and ran to the window.  Nothing.  I threw on my jeans and sweatshirt, without bothering to pull on my socks, just pulling those sneakers on quickly and I ran outside.  Nothing.  This was the right day…right?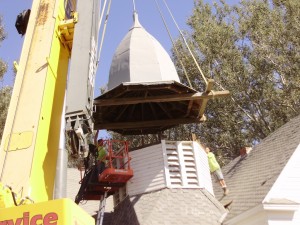 I walked back into my home and threw on a big pot of coffee.  The autumn air was chilly and I wanted to be ready for the day. 
And then I heard them….the trucks, the chatter, the clanging, and I knew it was time.  The day had finally arrived. 
One month ago, we moved Frank Lake Covenant Church to our grove.  And one month for me, not being able to get into it (because it was up so high in the air and I was ridiculously afraid to climb in there!) was one month too long.  Today, they would lower the church and then put the steeple back on it. 
On Sunday, when Dean and I were coming home from church in Monte, we looked up, and there it was, proudly displayed amongst the trees and the soybeans, looking stately and calm, but it looked more like a sweet home.  "That steeple needs to get back up in its place," Deano said.  And I thought to myself, it's like a piece of the church is gone and it's not quite whole.  Not yet. 
This morning, I checked on Matt and the movers periodically, and prepared a tray of water, pop and cookies and took out to them about 10:30.  "At 11, the crane should be here to move the steeple back,"  Matat said and I could hardly wait. 
About 11, I saw the crane arrive, and the Chihuahua and I made our way over to watch the sights.  Normally, I have Dennis and Marie with me, like fill-in parents they have become, encouraging and cheering on every event for this move, but they were gone to the cities.  Farmer Dean was in town at his post office job, so today it would just have to be me, the dog and the PBS cameraman, Andy. 
I made myself as comfortable as I could, on the end of a big moving truck and watch intently.  I whispered a prayer over Matt and his worker as they juggled the big blue tarp, being ever so carefully not to spill the rain water down the steeple.  They carefully removed each piece of wood that was screwed to the top and with every piece flying to the ground, I thought….one step closer. 
The crane operator was like a surgeon, moving this way and that, while talking to Matt via walkie talkie and I marveled at their expertise. 
The movers wrestled with some big metal bar and ropes while I watched the Frank Lake Covenant steeple get harnessed up for the big move.  The soybeans next to me waved in the breeze, and I thanked God again for another cool day to do work on the church. 
And there it was….a short while later…..and the steeple was in place.  I had gone in earlier this morning to retrieve the dog, and when I had come back out, Andy told me the church had already been moved down the foot and set onto the blocks.  Wow!  That was fast. 
But the steeple being set back up in its home location, I would not miss.  It felt whole again.  I felt whole again and I noticed I could breathe easier. 
The thing that I would have never seen….never known about this glorious little building, was the beautiful architecture of the steeple itself.  You see, as Deano and I have been driving the countryside looking for old doors (the ones on the church need replacing), we have been looking at country churches and steeples.  For those of you who are friends and know me well, I like things that are plain.  The lovely old churches are mostly ornate and exaggerated in looks. 
But not Frank Lake Church.  No…..it is beautifully simplistic. 
And I think outside the lovely shapes and curves of the windows, the steeple is stately and makes it look exquisite.  It's not pointy, it's not harboring a bell….it's just simple and different and lovely.  Plain….and simple. 
I sigh a sigh of relief and watch as the crew cleans up and quickly move their trucks out of the bean field and I wonder how I will ever get in to play the piano and assess the move. 
Alas, the man of my dreams walks across the yard from his job, dressed in his post office clothes and not delivering mail, but delivering a happy smile of relief as he sees the church is whole again!  He looks at me and says, "Don't worry, I'll get you in."  I wonder what I'd ever do without him, because, well, what wife can say that their spouse bought a church for their ministry? 
About 2 hours later, there is nothing left to remind you that the church steeple has sat on the ground for the past 4 weeks.  There is Frank Lake Church sitting proud and whole again, and Deano has taken a big old table, along with Mr. Hansen's left over bricks, and arranged it into a nice sloped sidewalk up into the building.  I rejoice! 
With music in hand, I ever so slowly walk in and remind my friend, "Welcome home Frank Lake Church," and I make my way up to the piano.  My fingers gently press down on the keys and I begin to play "Faith of Our Fathers," and other old hymns.  The hymnal that has been left behind is up on the piano now, and I reach for it and begin to play, wondering who sat here before me, and who played these songs.  I closed my eyes and began to sing…..and sing….and sing.  Deano just sat down and listened. 
It's good to be together again….Frank Lake Covenant and me.  I feel excitement building, and I stand at the podium and look out…..and I say a prayer…..to thank the past….welcome the present….and bless the future. 
To God be the glory…..great things He has done.