This past year, I gave the same plea to our ministry's conference attendees.  Over and over, I told them that when you find yourself standing in front of a door that God has very evidently closed; don't try to force it open.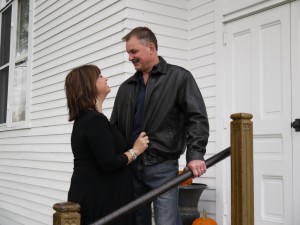 If you're anything like me, there have been times when you have noticed that the certain something that you really wanted, just isn't working out, and yet you try to force it.  Maybe it's that job you wanted, and now it's offered to someone else.  Or perhaps, it was an opportunity to purchase a different home, and someone bought it out from underneath you. Maybe it's that you want a relationship that really isn't for you.  Have you ever had this happen? 
I talk in my main session about  how this frequently happens to us.  Alright, I'll admit it!  I am the biggest door forcer I know.  If I think something is right … I move forward like nothing else matters. 
But something does matter … God's will for your life. 
If you've been to this year's conference, you know that I talk about my twenty-five dates.  Before I met Farmer Dean, my pastor approached me to begin dating.  I agreed to go on twenty-five dates in search of the perfect spouse.  I know, I know … you're thinking … wouldn't it be just great if that's all it took to find that special "someone," but I was determined to get through the dates and then focus on something else. 
After dates number 1-8, I was discouraged.  By dates number 9-15, it was looking hopeless.  My pastor would scan through the dating profile (internet dating) and recommend or say, "absolutely not!"  I began to think I wasn't going to find anyone, and that was okay with me. 
But by date number 16, I made a list and prayed that list.  I prayed for what I wanted … and I look back now and think I was really shallow.  I was looking for kind, gentle, a good dad, and attractive, financially stable, and well, attractive … did I mention that!?  It's human nature to want to be attracted to your spouse, but I hadn't found that in my prior 16 dates.  There's where the shallow fits in.
For one hour of my life, I found myself across the table from a very tall, handsome Italian.  He was kind, gentle, a good dad, financially stable and attractive.   And yet, within his first five minutes of speaking, I realized that the doors on this spousal opportunity were soon to be closed.  
His first question to me was, "So you are a music director?"
I answered, "Well, a worship director."
"You work for church?" he looked dismayed.
"Yes!" I answered.
"As in … you work for God?"  he questioned.
And then it happened … bam…just like that he said, "I don't believe in God." 
The doors were closed.  I have to admit that for a brief moment I wanted them to remain open.  He was great. 
But God didn't have great in mind for me.  God had His BEST in mind for me. 
By date number 24, I had met the BEST.  I had met Farmer Dean Weckwerth, the man of my dreams.  He was kind, gentle, humble, funny, loved my children (and now loves our grandchildren and is a fabulous Papa), a great provider, very smart, a farmer, a postman (I always get my mail delivered to the kitchen table!  Nope, don't have to go check the box) and he loved me deeper than I'd ever been loved. 
Sure, I finished my commitment to my pastor and went on date number 25, but I made it a one hour long  coffee date and blessed that man and raced out of Panera to start my new life with date number 24, Farmer Dean. 
Sometimes I make myself think about date number 17.  Sometimes I remind myself of what it would have been like if I had forced that door.  I knew the Italian wanted to continue a dating relationship, but He wasn't God's best. 
What's happening in your world today?  Are you pushing for things that you want, but in reality, they're just not God's best for you?  Are you forcing doors that you shouldn't be forcing? 
Here's what I know:  the doors that are closed aren't meant for you.  They were NEVER meant for you.  God tells us in Revelation 3:7 "These are the words of Him who is holy and true … who holds the key of David.  What He opens no one can shut, and what He shuts, no one can open."  You don't want to open the doors that are shut.  Those doors, well, they're just not for you. 
Take a moment today and reflect on where you're at right now in your life. Are you trying to get your own way about something that just isn't working out?  There's a reason it's not working out.  It's not for you.  It's not GOD'S BEST.  If it was … then no one could shut that door. 
Blessings to you today, in the decision-making/door facing of every day.   God's in it with you!