I could hear them, but I couldn't see them.  The sound was lovely, as I heard the birds chattering high up amidst the trees in the front yard.  I was making my journey along the path I've worn from my house to the old church.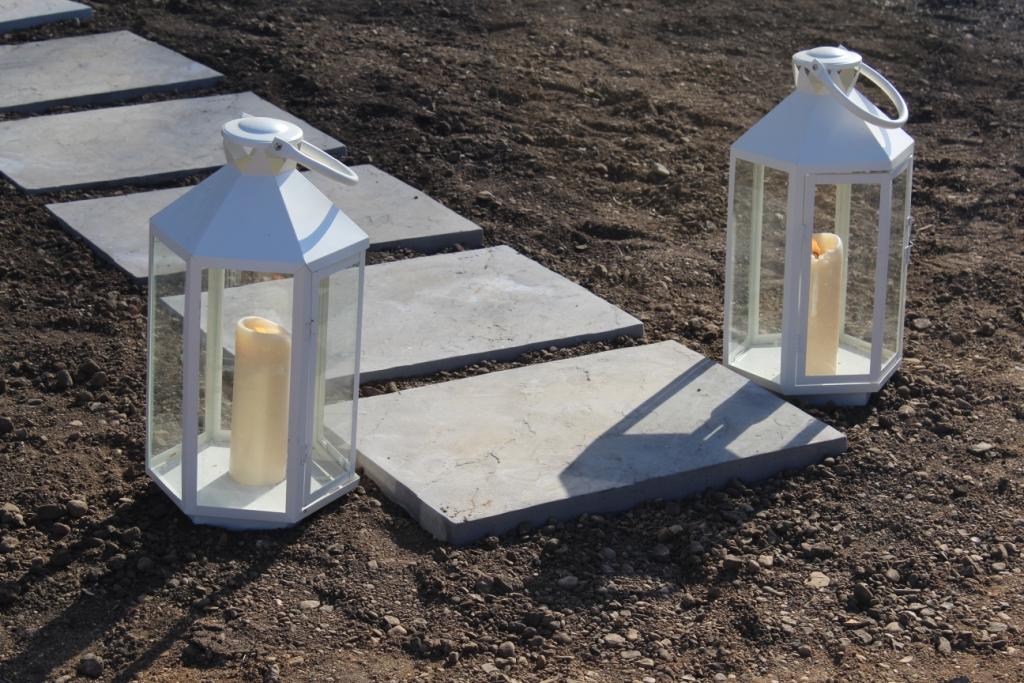 Day in and day out, I find myself traveling this path.  It's a journey that I make, all the while trying to discover more about me and the old Frank Lake Church, now situated in our grove. 
As I am feeling the soft green grass tickling my bare feet, I walk past the gurgling fountain and look down at the path to see that I'm wearing out the grass, and I smile and think about this journey I'm on and where the path has been leading me. 
The one thing I have learned about my own journey is very simple:                  I sometimes get so wrapped up in what God's doing; I forget to thank Him for what He's done.  Does that sound anything like you? 
This past year has been one that has been full of events.  There have been good events, great events, and really sad events, and each one has determined where I have stepped on this path called Life. 
Between me and the old church, there are trees, grass, shrubs, and a small space in between.  The journey hasn't always been like that.  It's been work getting from one place to another, as I am reminded today about the start of my ministry, Best Life. 
I stop this morning, and sit down at the table outside the church.  While sipping my hot coffee, I look up at the building and tell God, Frank Lake Church, and all of those wonderful believers who have traveled their own journey before me, that  it's time right now … time to say thank you to God.  It's time to sit down and rest and take time, make time, to say, "Here I am God, just a regular human, living a regular life, but thanking an amazing God for His blessings along this trip." 
If you were one of the birds perched high in the trees, you would be listening to me praying this prayer: 
Dear Jesus, today I want to thank you.  Who am I, Lord, that you loved me enough to send Your Son to forgive me for my sin?  Who I am that You would bless me with a fabulous Farmer-husband, wonderful children and grandchildren, and a amazing ministry?  Today I want to say thank you.  I want to pour out my soul, my heart, and my life before You, and tell You that I lived a life that is better than I could have ever imagined, because You were there with me every single minute of every single day.
 Thank you for:
My sweet Farmer Dean
My fabulous children
My dear grandchildren
My encouraging parents and their great Godly influence
My horrific painful circumstances that created an awareness of those around me and how they hurt as well
My growing lessons that I learned through leading others in worship ministry
My friends … so many who have impacted and help shape who I am today (like Pastor Frank, Joel, Carolyn, Tammie, Grandma Thelma and Florence, Keith, Pam, Kathleen, Donna, Sister- in- law, Mary, the rest of the BLM team, and Grandma Mary).
The blessing of buying an old 1900's church and how God poured out incredible growth for our ministry and us personally, through that purchase
The hope that I have to face each day
The Bible studies that we have at the church
The blessings that are revealed each and every day by our very own neighborhood, along with the people who were connected to God through a lovely old building.
The talents and gifts He has provided when I've needed them to do what I do for God.
A ministry filled with a fabulous team of people that God has blessed with skills, talents and love for others.
A great friend named Pastor Lewie, who never gives up on people or God, and who sees a vision vast and great for a little old church building. 
Today, my heart is full with a deep and grateful love for God.  The path, the journey I have been on, seems to continually come full circle.  I see where God's hand was in this instance and that one.  I have suffered pain and regrets, along with hopes, dreams, and great vision for the future, just like everyone else, but I see God's hand in all of it.  
Thank You, God, today for who You are, for all You're doing … and mostly … for walking this journey with me.  In Jesus Name … Amen. 
Dear reader … take time today to thank God.  He is with you and He never leaves you.  Look for Him amidst the journey … past the trees and shrubs … and hear Him in the sound of the whispering trees, gurgling fountains, and birds that sing. 
Praise His name … for He is good.