"I have a Maker, He formed my heart….He knows my name…He knows my every thought…"   Tommy Walker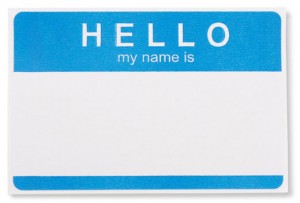 It's a simple truth … I can't always remember people's names. After being part of many a church staff in for the past thirty years, it is a simple truth that I have come to know about myself.
Put yourself in my shoes for a moment. There you are up on stage. You have served in churches with 200 to 3,000 people in attendance. You lead the audience in a welcome, prayer, announcements, worship, main session, and you look out over the vast blur of faces. Although you are more than well-aware of your worship team members (or now my BLM team), and you know their names by heart, the silhouettes of the faces in the audience permeate your heart and mind, but you haven't had the privilege of knowing each person at an intimate level.
Here's where the twist comes into play … they know you. They know your name, they know your job title, they know about Farmer Dean,  who your kids are, where you live, and how you lead your audience on any given Saturday or Sunday. Yes, they know you. There is one of you on that stage, on that staff, and there is a myriad of them.
It's an odd fact of life, that the more people you're leading or speaking to, the less people you really know.
That fact was proven again two weeks ago while shopping in the cities. While perusing the strawberries, a friendly young woman looked up at me and exclaimed, "Why, Kathy! I'm so glad to see you! How are things going for you? What's Best Life up to?" I smiled and chatted, while instantaneously, the rolodex of my mind began to whirl about. 
Is she from this church … no … that church … no  … neighbor … no  … sister-in-law … no … I could not remember her name. I continued to chat and ask her how her family was, hoping that would shake off the cobwebs of my brain. Nothing. We parted and I felt a huge wave of stress fall over me. After while, the stress was subdued, only as I found myself standing at a wake of an old friend's father.
As I stood there, memories began to trickle in through the windows of my mind, like warm sunshine on a spring day, and I welcomed them. I could see my childhood friend in front of me, a grown man now, and yet, for a moment he was a little five year old waiting for recess, and then a middle schooler, waiting to see what we got on our math quiz, and then a band member marching next to me down the streets of the town, and a young college student walking down the hall for a visit.
I snapped back to the present and heard a voice saying my name, "Kathy, Kathy, do you remember me?" Oh, no! The dreaded question! I scrambled around and looked smack into the face of a tall man with kind eyes, hidden behind a lot of facial hair. It's hard to remember someone from grade school, when you can't see past the beard. I tried, I really did.
He chuckled and said "Imagine me without the beard." No, that didn't help. "Imagine me with black hair on my now-bald head."  Nope. "Imagine me holding a trumpet and sitting next to Keith Tally." Okay, now I got it. Thirty-one years had passed since I saw Kevin and although his voice was the same, I could not have picked him out of a crowd. He was a kind, young man from my band class in high school. He remembered my name.
Exodus 3:14 shows us a time where Moses fears that the Israelites would not believe that he had been given direction from God. There was no fear from God that the Israelites will not know Him or His name, as  God simply answers, " "I AM WHO I AM. This is what you are to say to the Israelites: 'I AM has sent me to you.'"
In Mark chapter 8, Jesus asks Peter, "Who do you say that I am?" 'You are the Messiah,' Peter answers." Peter and the disciples know the Savior. They've spent time with Him in prayer, worship, healing and teaching. They know His name.
Yesterday, I walked the aisles of Wal-Mart and continued to ponder the realization that names are important to us.  Names help define our existence. I took a moment and really looked at people. There seemed to be hundreds of them, all busily racing from one thing to the next, living and breathing their existence called life. I didn't know these people. I could not tell you any one single person's name.
But I know this for a fact~God made each one of us and He knows our name.
My simple inability to remember someone from thirty years ago, or thirty minutes ago is a fact, much like the simple truth that God tells us in Matthew 10, What's the price of a pet canary? Some loose change, right? And God cares what happens to it even more than you do. He pays even greater attention to you, down to the last detail-even numbering the hairs on your head!
I know this simple truth: He called us into existence. He loved us enough to send His Son to die on the cross for us. He knows our name. He doesn't forget it.  
"Oh yes, you shaped me first inside, then out; you formed me in my mother's womb. I thank you, High God-you're breathtaking! Body and soul, I am marvelously made! I worship in adoration-what a creation! You know me inside and out, you know every bone in my body; You know exactly how I was made, bit by bit, how I was sculpted from nothing into something. Like an open book, you watched me grow from conception to birth; all the stages of my life were spread out before you, The days of my life all prepared before I'd even lived one day." 
The Message… Psalm 139:13