Living In the Busy
By:  Kathy A. Weckwerth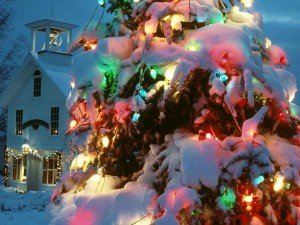 I remember that night very well.  I had worked long hours each day and night for 3 consecutive weeks orchestrating drama props, scripts, food, Christmas decorations, music charts, and a team of forty worship members.  I was fighting a cold, I was fighting sleep, and I was fighting period.  Nothing seemed to be working as I was helping people to prepare for the Christmas spirit, but my spirit was far from anything Christmassy.
I closed my office door and sat at my desk.  A pile of notes and music greeted me, a big to-do list hung on my monitor, and a half eaten gingerbread man stared at me with one cinnamon red hot candy eye.  Why was Christmas so far away in my heart?  Before I could ponder anything, the drama team came giggling at my door and off I went to the stage to rehearse the first act of the play.
The snow blew fiercely as I tried to make my way home that night, only to have Grandpa Gene call and tell me that the roads were bad and he and Grandma Mary wanted me to stay with them.  I pulled into the driveway and looked out at the frozen lake … it reminded me of my heart and mind … secluded in a layer of ice and snow.
Mary met me at the back door with a hug and a smile and told me she had saved supper for me.  I shook off the snow, hung up my coat and threw my purse and boots in the guest room.  The warm smells of tender roast beef and baby carrots began to thaw my stomach, while hot steaming mugs of coffee and Christmas cookies were brought out as we watched a Hallmark Christmas show.  We always critiqued the Hallmark Christmas movies.
I looked into the eyes of my sweet friend, almost 75 years old, and she turned the tv off.  What's going on, Kathy?  You look dead tired.  Is it just the busyness?"  Mary questioned.
Just the busyness was the core of the problem.
 We discussed my hectic schedule, my preparations for a huge event for Christmas Eve, the family, my lack of time to decorate, bake or shop, and my utter despair that Christmas seemed to only be about the busyness and not about the Christ Child or what He brought on that beautiful night so many years ago.
Mary looked straight into my eyes and said, "You need to take this Friday off.  We're going to St. Cloud and shopping and having fun."  Out of my fatigued self came the emotion of guilt, to which Mary fought back, and hugged me, tucked me into my bed like I was twelve and said, "Get some sleep.  We're going on Friday for some fun."
The next morning I awoke with a small amount of renewed strength as I breathed in the smells of caramel rolls, bacon, eggs, and hot coffee.  I got dressed, met my friends at the breakfast table, and looked out at the lovely lake.  From a different perspective (morning), things looked much brighter.  I sat down with a piece of paper and began to clear my plate of everything that was not necessary, but was on my list of "making Christmas perfect."
Next, I made out a shopping list, grocery list, and cut my cookie baking list down to the family's top four favorites.
Finally, I used Mary's phone and called a friend from church who was a great organizer and helper.  I said,  "I need help.  In the busyness of this season, I thought I could do it all … I can't … I need help."  She responded, "I'll be there in one hour."  And she was!  She came with a big glass of ice tea from Mcdonald's, a can-do attitude, and stayed for hours to help me get tasks checked off the list.
The busyness had not sucked me into the huge vortex of craziness.  Instead, when I stopped and took charge of my mind and spirit, I was able to grasp the things that were important, set aside the things that were not, and by Friday, I was ready for a break with Mary.
Mary has been gone for two years now.  I remember that before-Christmas-fun day together as though it was yesterday.  I met her and drove her van.  We blared Nat King Cole and Frank Sinatra Christmas music but played the Carpenter's Christmas CD over about twelve times.  We stopped for coffee, shopped at Goodwill, went to the mall, got our Christmas errands run, and ate delicious pasta for lunch.  We laughed, cried, joked, reminisced, and we made memories.
The busyness didn't win that year.  It never completely froze my heart and soul so I could get back to the center of what it's all about … Christ.
This year, take a moment to sit down and contemplate where you're Christmas spirit is at?  Are you overwhelmed?  Are you trying to make things perfect?  Are you doing too much for everyone else and forgetting that YOU need to experience and embrace the sentiments of Christmas?
We're at the beginning of the season.  Take time this year to make sure that you are really living in the moments of the days that lead up to Christmas.  Make time to read the Christmas story, make time to bake (and eat) your favorite cookie, listen to great Christmas music, read books about Christmas, watch the Hallmark Channel, spend time with friends singing carols around the piano.
Whatever you do, don't allow your soul to become calloused and frozen.  Look at things from a new perspective and embrace the season.
Isaiah 9:6 "For a child will be born to us, a son will be given to us;  And the government will rest on His shoulders;  And His name will be called Wonderful Counselor, Mighty God,   Eternal Father, Prince of Peace."