By:  Kathy A. Weckwerth       ….It happened again, the same thing that happens every so often in my life.  As I get older it's happening more and more.  Someone gets off the bus.  Let me explain …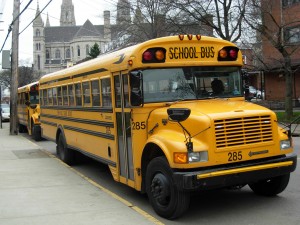 My daughter called me up last week and was sobbing into the phone.  She began to ask me why things were the way they were.  She had been working at the same job for the past few years, loving her role as an assistant to a wonderful boss.  The boss cared about her, encouraged her, complimented her, and when Christmas rolled around, gave her a nice large bonus.  And then something happened … that thing that happens to us all … the boss moved to London. 
My child was devastated.  Why does life have to change she wondered.  Why do people come and go?  Why? 
Here's what I know:  I call it the Bus of Life.  Each one of us is the driver of our own bus.  It's the bus of our lives.  Throughout the years, I would stop and pick someone up and they would walk down the aisle of the bus.  They find their seat, chat with the others, and we travel together.  Oh, the experiences we've had!  The ride of life has been wonderful! 
I think about the days that as a child I traveled on the school bus with friends to the state capital as we marched down the street, playing our instruments on a warm sunny day.  I had friends with me on the literal school bus, but they were there traveling through school days with me on the journey of what I call Life.  
When I moved to Minnesota and left my home in southwest Iowa, many of the riders got off the bus.  I no longer would have them as part of my world, riding the bus with me, experiencing life.  But along came new friends, different acquaintances, and there was always a sad place in my heart for those who got off the bus. 
As I moved into the role of worship director at six different churches, I would make friends at the church and utilize people's gifts as they would play an instrument, sing, read, act, or create with me for our services.  At times, those same people would take a job in another state or they would change churches.  And off the bus they went. 
I would travel to the next church and meet new people.  They would get on the bus ride of life with me and we'd explore new songs, learn new scriptures, pray together, create, laugh, and live life. 
I wouldn't be myself if I didn't tell you about some of those friends.
In my early years of grade school, I met the ever-wonderful Alice Fulk.  Smiley, happy, smart, fabulous piano player, and my friend. I last saw her in 1980 when we wore our caps and gowns.  Alice got off the bus.  But … three years ago, the bus door opened as Alice stepped back up the steep steps and took a seat.  She now facebooks with me and writes articles for our ministry's magazine. 
Or there is Keith Tally.  He has been riding the bus of life with me for the past 46 years.  I met him in kindergarten.  I left him at graduation, only to realize that 5 months later I was so homesick I could've died.  Down the corridor of my new school in Minnesota, I saw my friend walk towards me and say hello.  Throughout the years, he and his lovely wife, Laura, have lunched, listened, and laughed with me.  Today he still rides the bus as he serves on our ministry board and writes for our magazine. 
Then, there's Grandma Mary.  I met her at church.  She picked me up one day for lunch and stepped on the bus.  She never chose to get off the bus, but one day, after riding for 7 years, I pulled up to the lamppost where I saw Jesus calling to her … time to get off and travel with Him to her Heavenly Home.  
There have been those who I spent time with and rode through the journeys of life that I miss terribly.  Sometimes it's not that they have left this earth, but they have just left me. 
At times, it was a move for them or for me.  At times, it was a parting of ways and different interests.  And sometimes, it was a break of a friendship.  Those are the ones that make me sad. 
I wouldn't be honest if I didn't tell you that the bus ride at times can be painful.  A jolt here, a jab there, a bump in the road, a flat tire … they are all part of this journey. 
When I look back, there are days I wish I could make the stop at that old familiar lamppost and say, "Come on, ride for awhile with us." 
Like my friend, Dave Herring, who was worship leader for the ministry for BLM the past three years and then moved out east, or my boss Joel who believed in me and made me stronger but I couldn't stay working for LawLand, or Pastor Frank who moved and now lives miles from me. 
I don't think there's a day that goes by when I don't look over my shoulder when I start the engine in the morning and think that my daddy is on the bus.  Even though he's with Jesus, there are times that I still catch a shadow of him sitting right behind me … whispering some fabulous words of wisdom. 
So, I told my sweet child that this is how life is and how it will be for us.  We get to travel with people for awhile.  Sometimes God moves them from the bus because they get to do something else that's fabulous for them.  Sometimes it's just that they have served His purpose in your life and God moves them onward and forward. 
That's where we must realize this one thing:  Life is an adventure.  Value and treasure each moment.  Embrace the bus riders.  Love them, care about them, value them.  You have no idea how long they will be in your life, and how long they will ride the ride with you.  But as long as they are traveling with you, you live every moment to its fullest, you appreciate them, you thank them, and you watch what God does.
  He will move people in and out of your world and you won't realize it, until you hear the slam of the bus door and the motor starting. 
Who's riding the bus with you today?  Who is in your life right now?  Take a moment to call them and say to them, "Thank you for being with me in this life." 
Value the bus ride. It's your journey.  It's your road.   It's your life … 
Numbers 6:24-26 "The Lord bless you, and keep you; The Lord make His face shine on you, and be gracious to you; the Lord lift up His countenance on you, and give you peace."