So we know it … we get it … we see it every day … but are we a part of the problem?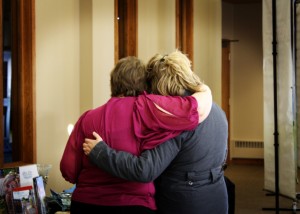 Lately I've been noticing that people are fostering a mentality of being ungrateful.  It's the continual attitude of expecting life on a silver platter that is starting to make me wonder … really wonder … am I part of this synopsis? 
When I was growing up, my mother made my siblings and I sit at our big green table and write thank you notes, every single time we were given something.  At times, we would write notes to thank people when they had done something kind for us, and along with those notes, very frequently, she'd dial up Grandma or Aunt Laurel, and make us recite a pleasant, "Thanks so much for the money you sent to me," even after we'd written the note. 
As I was in Target a few weeks ago, a woman and her 3 year old were in the same aisle.  The child grabbed for a Toy Story pillow and about 5 of them fell down, along with a few Hello Kitty blankets, brushing a lamp that barely missed the big spill. 
I leaned over, picked everything up and put it back nicely as the woman pushed past me and kept on going.  Huh?  Where's my mother to talk to this woman, I wondered! 
Then, a few minutes later, while shopping at Cub for groceries, I allowed 2 forlorn-looking people to cut in front of me, while I smiled and said, "Go ahead!"  They pushed past me, ran their items through and rushed to the exit.  Again I wondered … what's happening!  (insert me calling, "Mom!")  
There is an attitude of ungratefulness that is over us today, suffocating kindness and appreciation out like a wet blanket thrown over the embers of a fire from the past.  Didn't we use to say thank you?  Wouldn't you stop and say to someone, "That's so nice, I appreciate your offer," or "thanks for picking those things up, that really helped me." 
Today I heard from an old friend.  She let me know that she was passed by for a promotion at her job.  When we started talking, she said, "I guess I just thought I was a shoe-in.  I took it for granted."  It made me start to think.
Why do we take things for granted?  Why are we assuming that people should pick things up for us without a thank you, or let us cut in line without a nod, or even give us a job, because we think we should have it?
Our manners are changing.  Our thought process is different.  Our expectations have risen to high, high places.  But unfortunately, our hearts are being hardened. 
My dad used to say, "Kathy, we don't do things for thank yous, we do things for God."  But, I think there's a difference in doing something and expecting (there's that word again!) things and just having kindness and manners. 
It's time for all of us to shake things up a bit.  It's time to start thinking about others, and being grateful-minded.  It doesn't matter how big or how small the help is, it's just time to say thank you. 
Did you ever receive help from someone and really feel happy?  It's time to tell them.  Perhaps it's an errand someone ran for you, or a phone call they made to check up on you, or maybe someone just emailed you an encouraging note, whatever it is … it's time to say thank you. 
I'm putting thank you back in to my Kathy Weckwerth internal dictionary.  How about you? 
Time to go … I have some thank yous to write.  By the way, thank YOU dear reader, for taking time to read my blogs.  I appreciate you! 
I Thessalonians 5:18, "In everything give thanks:  for this is the will of God in Christ Jesus concerning you."