God With Us    By:  Kathy A. Weckwerth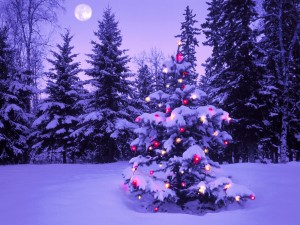 Behold, the virgin shall conceive and bear a son, and they shall call his name Immanuel (which means, God with us).  Matthew 1:23
It's that time of year again, the time of year when we purchase our gifts, bake our cookies, listen to Nat King Cole and the Carpenters' Christmas music, and bring some more logs in for the fire.
As time has gone by, I have gone from the utter excitement of being a child and shaking presents under the tree, to working desperately to make my own children's Christmases exceptional, to now, where I'm prepping and planning to make my grandchildren's Christmas memorable.  But sometimes (or if you're like me … most always!) we get pulled into the Christmas whirlwind and we are too busy doing … that we are not being.
This weekend, our youngest daughter and her husband were moving all of their possessions out of our garage to their new home.  Farmer Dean and I were elated to finally see the garage floor, and Deano happily set up the ladder to bring down Christmas decorations from the attic.
While hurrying to prepare for our Thanksgiving service at the Church in the Grove, I was running out of the garage to my car when I suddenly stopped dead in my tracks.  There was baby Jesus right in front of me.  I almost tripped over Him.  And I stopped.  Right there, right then, in the middle of my hurry.
I knelt down by the plastic figure that goes with the rest of the Nativity set, and I said, "Thank you for what You've done for us.  Thank you for humbling Yourself and coming as a little child to save us.  I promise you today, I will take time … make time … rest … enjoy … worship … and be grateful to You for this season.
In the busyness of your life and in the middle of all of your Christmas parties and plans, put Jesus right smack in the middle of your path.  And make sure that just as He sits in the center of the Nativity scene outside our churches and yards, He will remain in the center of the Nativity scene of your life.
Merry Christmas to you and yours,
Kathy