I had thrown everything into my suitcase, grabbed my talk, and headed for the car.  It would be another day of racing and running to get to where I needed to be and to begin a long journey to Iowa to see my 84-year-old mother.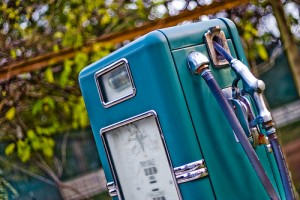 The drive was not peaceful, but in actuality, gave me an uneasy feeling of panic, wondering how in the world I would ever get everything accomplished.
My mind began whirling over the details.  I had just helped youngest daughter, Jenessa, with babysitting my granddaughter, was the guest speaker for a women's event, delivered special music for a church service, and was spearheading a new magazine issue.  Not only that, but I was getting ready for a speaking engagement in the morning, and I started going over the talk in my mind.
It seems when you least expect it, the Holy Spirit gently pricks your conscience, and I immediately knew that the talk I was giving in a few short hours, was a talk that was no longer soaking into my soul.  Instead, I was mouthing the words, believing them for sure, but not practicing what I was preaching.
The topic for the women's kickoff event at the large church in the cities that had hired me, was about filling up on the good things of God … filling up the gas tank of our hearts and minds so that we can be effective in all we do.  But the most important thing is being aware of what you're doing and having balance in your life to know when your gas tank is running on empty or even stalled by the side of the road.
I hadn't been doing that.  I began to quiet my spirit and pray, however, the cities' traffic distracted me and the panic settled in again.
I don't know about you, but there are times in life when I experience weeks where I feel like things are in check and balance, and then there are days and even weeks where I can't seem to stop long enough to fill up with spiritual gasoline ….
God's Word,
God's Attributes and
God's Spirit.
I began to feel very alone.  I felt almost as if I was walking a fine wire on a tight rope at the nearby carnival, only I couldn't see where I was falling.
That night, I spent time in the Word, and prayed.  The sense of busyness was still there, but I felt a bit more calm and yet I still very much alone.  I slept fitfully on my oldest daughter's couch.
The alarm went off with a sharp beep at 6:30 a.m. the next morning and I awakened to the busyness of my daughter, as she prepared for work.  Her husband was traveling with his job, so I knew to be a good mom; I would pitch in and help get my grandsons dressed and ready for the day.
I walked into Jonah's room and looked down.  I caught my breath.  Curled up with his blanket, his blonde hair thick and curly, I could see the reflection of middle daughter, Chandra, in his sweet body, and for a moment I let myself remember the days that I would go in and just watch her sleep.
Time was ticking by and I gently said, "Jonah, time to wake up."  He kept his eyes closed and sat up scooting close to the edge of his bed.  With eyes closed and legs dangled over the side, Jonah threw his arms around me and said, "I gotcha Nanny….I gotcha." 
And in that moment, everything whirled around me as this little boy hugged me tightly. I can't explain why I would feel safe for that moment, but I can tell you this … as odd as it sounds … I heard those words and I felt that hug, and I was immediately reminded that God is so much bigger than my issues.  He is there in the cities' traffic, He is there in talks and plannings, and he's here in my fretting and worrying.    He is there in the love of family and in the nature I see that is whirring by in my car's windows.  He reveals Himself in the loveliest moments and the most fascinating ways, like this morning in the hug of a child and the words, "I gotcha."
It was in those moments I found God.  I knew I was not alone.  I have a great big God who knows my every thought, my every need.  He is there for me.  He is there for you.
And the best thing of all  is the realization that He's got us.  Imagine that hug around the neck and get going … you've got a big life to live.
"I love you, God— you make me strong.  God is bedrock under my feet, the castle in which I live, my rescuing knight.  My God—the high crag where I run for dear life, hiding behind the boulders, safe in the granite hideout."
Psalm 18:1-2