By Kathy A. Weckwerth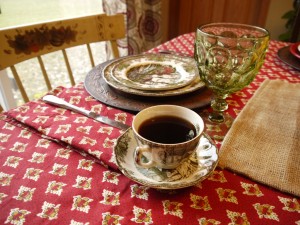 I have a slight problem.  Perhaps you have the same one.  I don't live in today.  I worry about tomorrow and I fret about yesterday.  I don't live in today.
I guess I realized this dilemma was getting more serious when the chilling winds of November arrived earlier than expected as the last weekend of October had the weatherman predicting snow and the leaves were flipping to and fro, hitting the ground in a frenzy.
Knowing I had Bible study at the little church and because I didn't want to be cold, I grabbed a long sleeve tshirt, through on a pair of jeans and my warm wooly socks and got ready to leave.  But a penetrating cold seared through to my bones.  I couldn't shake the chill.
And there it was … on the top shelf of my closet … a beautiful, brand new, expensive, beautiful sweater from the store Chico's.  Farmer Dean had blessed me with a little spending excursion as I got to pick out a few fun things for my birthday.
But you see I can't wear that sweater because it's for the future.  I might need it for a speaking engagement or for some big family celebration.  I might need to wear it for a photo shoot or a friend's baby's baptism.  I can't wear it.  It's for the future.
The future comes and then I wait for another batch of the future because I can't wear the sweater.  It's new.  I might need it.
It doesn't stop with the clothes, no.  I have my grandmother's beautiful Johnson Brother's Friendly Village china.  It's displayed in a lovely fashion inside a beautiful old cabinet in my family room.  I might need it in the future for a family get-together.   But when the family gets together, I forget, or I think, no … it might get broken.
You see, I'm not living in the today.  I'm living in the future.  And when I look at the past, yep, I wouldn't mind stepping back in time to be there in my old 1940's Ford sedan, wearing my hat and gloves and worrying about what's for dinner.  But I have a tough time using things right now.  What if I need them?
What if the sweater never gets worn?  What if the dishes never get used?  What if that something never happens.
So today I decided to wear the sweater.  Down it came from the highest shelf next to Farmer Dean's extra jeans and tshirts.  Clip, clip, went the pricetags.  And I slipped it over my head only to exclaim to myself how great it looked and how yummy it felt.
Tomorrow is always tomorrow.  Yesterday is always yesterday.  But today … well, today we get to live, really live.
I'm grabbing my favorite Audrey Hepburn movie, wearing my new sweater, and pouring myself a cup of coffee from Grandma's coffee pot into Grandma's beautiful dishes.  After all, she used them every day for years and years!
It's time for us to stop worrying about saving things for tomorrow.  Tomorrow will be another today … I'm living in the today.
Well, it just fits better.