When Others Say No~By Kathy Weckwerth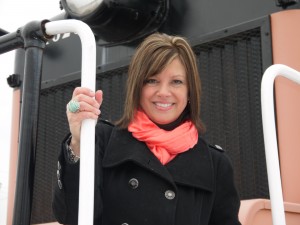 Over the years, I have had people say, "no," to me.  Not about volunteering, or sharing, or giving me their new Lexus, but "no," when they think I shouldn't do something, go somewhere, become someone.  They bluntly and boldly say, "No … you can't do that."  To which I often wonder where that powerful "no" comes from.  What gives?
Throughout the past years, I have been told "no" by friends, family members, co-workers, and people I've never met.  Pleasantly, mind you, they come to the door of my life and say, "You can't do that!" and move on to their next spot where they are perpetuating negativity, disbelief, and discouragement.
But here's what I know about the "no."
Years ago I was called by God to become a worship director.  Without a huge college degree or doctorate, I approached the dream head on.  And then it happened, my best friend, a close family member, and an old pastor told me "it can't be done."  I moved forward aside their discouragement, followed God, and served as a worship director for the next 25 years and God prevailed.
While serving as a worship director, I had a dream to sing commercials for the radio.  Church folk smirked and pastors laughed me out of their offices.  But while serving a church, a radio commercial producer showed up at one of our events and heard me sing, gave me his card and said, "Call me."  And God prevailed.
When I was told I couldn't start a ministry, God proved the nay-sayers wrong again and our ministry has been thriving for the past seven years.
When Farmer Dean and I moved ahead to buy a little old church on Craigslist for $1.00, many friends and a few townsfolk thought we were goofy and tried to discourage us, and God prevailed.
I recently read a crazy complaint against author/speaker, Beth Moore.  Some young woman wanted to criticize and create trouble for her, so she accused Beth of being a "false prophet."  When Beth kindly wrote her personal emails to ask this woman what did she think Beth was doing wrong, the woman told her "you can't do that," meaning … Beth wasn't allowed (according to her interpretation of scripture) to teach men, to talk about how God "speaks" to Beth, and she criticized her for her friends (Joyce Meyer and Joel and Victoria Osteen).  But Beth teaches, Beth serves, Beth leads thousands of men and women closer to God, and God prevails.
Here's what I know about moving ahead with God:
If you know Jesus as Savior, you have the Holy Spirit dwelling within you. He comforts, He prompts our hearts, and if we follow Him, He leads us.
Nay-sayers are there to do 2 things: 1) discourage the dream 2) prompt you to push through or give up.
We can't listen to them. We must follow God.
You'll never get to where God wants you to go, if you listen to the nay-sayers.
God's voice is the only one to listen for and to follow.  So, the next time you are thinking you want to become a doctor, serve in the Army, start your own business, sing commercials on the radio, or run a marathon, ask God if that's the dream He's put inside your being, and then …. let God prevail.
Proverbs 19:21, "Many are the plans in a man's heart, but it is the Lord's purpose that prevails." 
Kathy Weckwerth is the Founder & Executive Director of Best Life Ministries, a nonprofit ministry that brings conferences to the local church, provides magazines, Bible studies and blogs that motivate, encourage, and inspire.  You can find out more about her or her books at kathyweckwerth.com