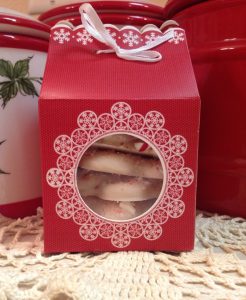 Looking for some fun holiday recipes?  Here's our faves!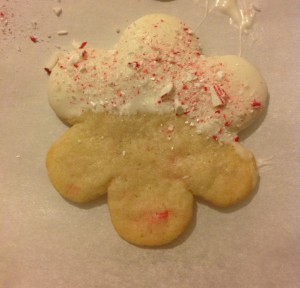 Peppermint Shortbread Cookies
2 cups butter softened
1 cup white sugar
2 teaspoons vanilla
4 cups all purpose flour
Preheat oven to 350 degrees. Cream butter and sugar til fluffy (about 4 minutes).  Mix in vanilla.  Add flour a little at a time.  Mix well.  Roll flat on a floured board about 1/4″ thick.  Make into a round disc.  Cut in 1/2.  Then, in 1/2 again.  Score in 1/2 one more time.  Cut with different cookie cutter shapes.  Bake 10 minutes.  Don't overbake!  Cool.  Dip into melted white chocolate and crushed candy canes.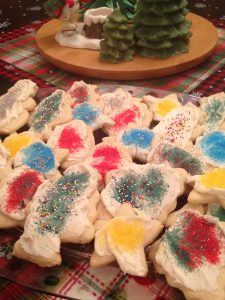 Old Fashioned Sugar Cookies
1 1/2 cups butter
2 cups white granulated sugar
4 eggs
1 1/2 t. vanilla
5 cups flour
2 t. baking powder
1 t. salt
In large mixing bowl, beat butter and sugar til smooth.  Add in eggs one at a time.  Add vanilla. Sift together flour, soda and salt.  Add into bowl and mix. Chill for 1 hour. Preheat oven to 350 degrees. Roll out dough to 1/2″ thickness.  Place on ungreased cookie sheet and bake for 10-12 minutes until edges just turn brown.  Frost with powdered sugar frosting and decorate.
Frosting:  2 cups powdered sugar.  1 stick butter (softened).  1 t. vanilla. 1/8 cup milk.  Beat til smooth.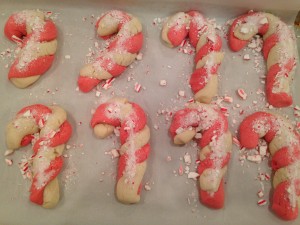 Candy cane Cookies
1 c. shortening (1/2 butter or margarine)
1 c. sifted powdered sugar
1 egg
1 ½ t. real almond extract
1 t. real vanilla extract
2 ½ c. flour
1 t. salt
1 t. red food coloring
½ c. crushed candy canes
½ c. sugar
Heat oven to 350 degrees.  Mix shortening, sugar, egg, and flavorings thoroughly.  Sift flour and add salt.  Stir into shortening mixture.  Divide dough in half.  Blend in food coloring into one half.
Roll strips (1 tsp dough) from each color on a lightly floured board.  Place strips side by side, press lightly together and twist like rope.  Twist top down to form handle of candy cane.  For best results, complete one cookie at a time.  Bake on ungreased baking sheet for 8-9 minutes, or until edges of bottom are just turning light brown.  Carefully remove from cookie sheet, while still warm, and sprinkle with mixture of candy cane and sugar.
Makes about 4 dozen candy cane cookies.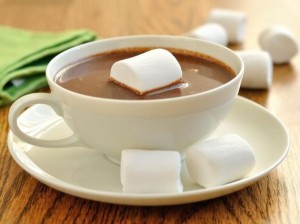 Mint Hot Chocolate Mix
3 cups powdered dry milk
1/2 cup fine sugar
1 cup Swiss Miss cocoa
2 cups mint chocolate chips
8 mini candy canes crushed
Place first 4 ingredients in a food processor and grind until smooth.  Once powder is created, add in crushed candy cane.  Pulse 2-4 times to get mixed up.
To use:  Add hot chocolate powder in 1 cup of hot water (not milk needed since it's in the powder).  Enjoy!
Gingerbread Men
¾ c. butter
¾ c. packed brown sugar
1 egg
½ c. molasses
1 t. vanilla
3 ¼ c. flour
1 t. baking soda
1/2  t. coarse salt
1 ½ t. ginger
1 t. cinnamon
1 t. cloves
1/4  t. nutmeg 
Beat butter and sugar on medium speed until creamy.  Beat in egg until well blended.  Mix in molasses and vanilla; set aside.
Mix remaining ingredients in large bowl.  Beat flour gradually into sugar mixture on low speed until well blended and soft crumbly dough forms.  Divide dough into ball and wrap.  Chill in refrigerator for 1 hour.  Roll dough to ¼ inch thick.  Cut with cookie cutters.  Bake in preheated oven at 350 for about 10-11 minutes.
Frost with powdered sugar frosting with a dot for each eye, and 1 for each button (3 buttons total).  Press a cinnamon hot on each frosted dot.