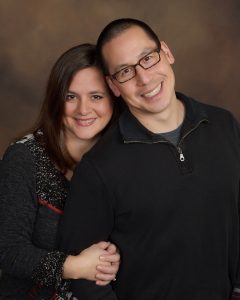 We have incredibly busy lives with Gene having a huge job and Sandra homeschooling and running our children to their various events. Our marriage is a huge priority and we believe that if something is important enough to you, you are going to make an effort, so we make sure we have time for each other.
Make Love Stick by Creating Time for Each Other: 
Get Your Date on the Calendar: We put a date to spend time together on our schedules and on our phones. The kids know it's happening, so if Mom and Dad have a date, it has to be an emergency that would stop that date from occurring.
Be Creative with Your Date: We try to be creative because we are so busy and don't always have time for a two-four hour date that we would really want to have. Sometimes we try for a 30 or 45 minute date. Or we find time in the middle of running errands; we will stop and get a fun treat to eat or drink while we're out so we can have fun and a little spontaneity.
Connect with Each Other Every Night: We make sure that we do not go to bed without connecting and talking to one another about how the day went and learn how each other is doing on a physical, emotional, and spiritual level.
Make Love Stick by Learning to Fight Fair: 
Arguing is a huge issue in many marriages, and in all honesty this was a huge problem for our marriage. We didn't know how to argue and whenever we did it was terrible. Gene would yell, slam doors, and together we'd have a lot of conflict or avoid each other. We realized how unhealthy this was.
We wanted to find a way to communicate better and through this process we realized that if Gene felt hurt he shouldn't just fight right away. Sandra is a runner so when she felt hurt, the last thing she wanted to do was talk. She wanted to leave the room, stuff everything, and come back with happy faces ready to move past the issues.
We had developed a fighter versus a runner mentality or a hailstorm versus a snapping turtle mentality. We were opposites. What Gene realized was that he actually needed to make an appointment to sit down with Sandra and talk through things about an issue, and give her the opportunity to say yes or no. If she said yes, we'd set a time, it didn't have to be right then and there, it could later in the day, or a day later.
Gene needed to process the feelings ahead of time and think through how he would approach things. As a result he had to change his paradigm. Gene grew up in a household that didn't process feelings well. He needed more awareness in the process to think through what the issue was, what his thoughts and feelings were, and what his wants were.
At the end of the day, it was about developing a better communication process that was safe.
Make Love Stick by Using Good Communication:
Use "I" statements like "I feel sad" or "I think." Don't use "you" or "fault finding" statements.
Learn to truly listen to the other person. You are listening to their reality, their feelings or their perceptions. It doesn't mean they're right or wrong, it's what they're thinking or feeling and you have to learn to truly listen to them.
Value your relationship more than your ego.

Apologize ~ Say the words, "I'm sorry" to one another.
Accept responsibility ~ Say "I did …" whatever you did.
Remedy ~ "What can I do to make it better?"
Forgive ~ Learn how to truly forgive so you don't harbor things.
Making love stick is work. Marriage is work. But with God, all things are possible, even getting along with one another and making it your best marriage together. Day after day, God's mercies are new for us.  We need to react out of love for our spouse.
Bio:  Gene is a corporate lawyer and Sandra is a professional musician, homeschooling mother, and motivational speaker. They have been married for 20 years and have two children.
"You know you're in love when you can't fall asleep because reality is finally better than your dreams."  Dr. Seuss
I Corinthians 13:4-8a (MSG)
Love never gives up.
Love cares more for others than for self.
Love doesn't want what it doesn't have.
Love doesn't strut,
Doesn't have a swelled head,
Doesn't force itself on others,
Isn't always "me first,"
Doesn't fly off the handle,
Doesn't keep score of the sins of others,
Doesn't revel when others grovel,
Takes pleasure in the flowering of truth,
Puts up with anything,
Trusts God always,
Always looks for the best,
Never looks back,
But keeps going to the end.
Love never dies.