1st Day of the BEST summer vacation with Dean and Kathy
1.Drive through the lovely open fields and plains of South Dakota.  Arrive in Sioux Falls.
2. Next, head for the most delicious breakfast ever at the Original Pancake House. Dean enjoyed the two by four- eggs, delectable hash browns fried to a crisp golden brown, and 3 big fluffy pancakes.  Kathy enjoyed the Greek omelet stuffed with sundried tomatoes, feta, and spinach that came with 3 gluten free blueberry pancakes.  Fresh squeezed orange juice and iced tea!  Prices range from $8.00-15.00 (www.originalpancakehouse.com)
3. Once you enjoy your lovely breakfast, you've got to work off that overstuffed feeling.  Drive down about three miles to the Butterfly House and Marine Cove.  Once inside, you can pet  sharks and stingrays at the touch pool, observe starfish, look at the blue tang fish up close and personal, and head on in to see hundreds of butterflies freely flittering about your head as you walk across a circular path.  Also, within the butterfly museum are large turtles, fish, and little birds that walk around pecking at bugs.  Kids will love this! Cost $10.00 per adult. (butterflyhousemarinecove.org)
4. It's time to get back on the road.  Only 3.5 hours to the Badlands.  You have just enough time to plug in some quiet music and nap, or put in the Bible on CD and meditate.
5. Once you arrive at the Badlands, you will need to get out, breathe fresh air and stand amidst the glory of our Mighty God!  The mountains and ridges are sharp and like nothing you've ever seen before.  It will take you approximately 45 minutes to drive the road through and experience the most unusual rock formations you've ever seen. –FREE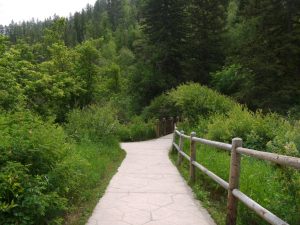 6. After you've driven through, you'll head back on the road and in less than 30 minutes, you'll arrive at Wall Drug.  We purchased a few postcards and a big slab of peanut butter fudge.  -$5.00
7. Once you've completed perusing the paraphernalia at the stores, it's time to head for Rapid City.  If you stay on the main highway, I90, you'll avoid much of the summer traffic. HOTEL:  Fairfield Inn, 1314 North Elk Vale Road, Rapid City, SDPhone: (605) 718-9600- 159.00 for a room (AAA discount $143.00).Check in time 4:00 p.m.  Check out time noon.  Includes free breakfast.
8. Rapid City offers a plethora of dining establishments, but we had a gift card to the Outback Steakhouse.  Delicious tender steak, baked potato, the well-celebrated bloomin' onion, and cold salad with roma tomatoes made this extremely enjoyable. Prices range from $8.99-30.00 (outback.com)
2nd Day-
1. Enjoy your free hotel breakfast of cereal, hot eggs and waffles, fresh fruit and yogurt and muffins, and orange juice.  -FREE
2. You will drive for 30 minutes to Spear Fish (stop and take a break at the Walmart for postcards, stamps, and a South Dakota sweatshirt).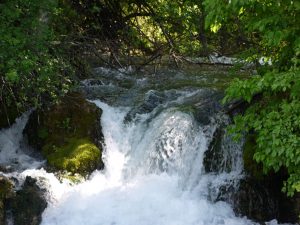 3. Drive for 13 miles to Roughlock Falls. (takes about 30 minutes because you're winding up one of the black hills … not scary). -FREE
4. Once you have driven up the mountain, you will get to the most beautiful waterfalls.  Several locations to stop and gaze, easy walk ways, outdoor toilets, and lovely views of mountains, water, and trees.
5. Picnic Lunch at picnic tables by the river- We enjoyed icy cold bottles of water, peanuts, crackers, peanut butter sandwiches on gluten free bread, sweet potato chips and Reese's peanut butter minis.-Brought from home.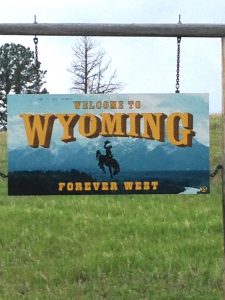 SIDE NOTE: Although South Dakota and Wyoming felt similar with the big hills and open plains, Wyoming's distinctness comes from the beautiful huge mountain scapes across the skyline.  We enjoyed seeing many deer, and other wildlife along the trip.
We made time for the look out spots and enjoyed using our binoculars and camera!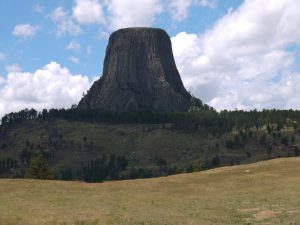 6. After 1.5 hours of travel, arrive at Devil's Tower National Monument.  Note that looking straight at the monument; you will see a large, God-made cross in the side of the mountain.-10.00 per car.  We did not go in the park, but observed from our car on the side of the road-FREE
7. Drive for 1.5 hour to Buffalo, Wyoming (home of the Author Craig Johnson who writes the Longmire series -as seen on Netflix).  Visit the quaint town shops and stop in at Jim Gatchell Museum (closed sat-sun) go on Friday. 9-4  $5.00 per person.
8. Head out to Sheridan 30 miles away.  We stayed at Candlewood Suites, 1709 Sugarland Drive, Sheridan, WY. $129.00 a night.  No breakfast, but each room has a kitchenette.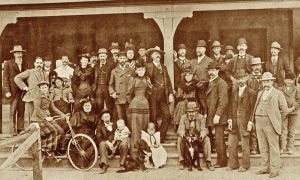 9. For supper, enjoy the lovely atmosphere of the Sheridan Inn.  The home of Buffalo Bill for eleven years boasts that their bar was brought over in pieces from England.  Buffalo Bill held auditions for his traveling show out in the yard.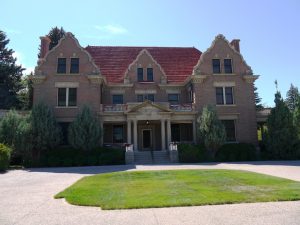 10. While in Sheridan, visit the most beautiful home ever!  The Trailend Kendrik mansion offers lovely lush carpets, rich mahogany woods, beautiful original antiques, and just think … it was almost demolished.  (weekdays 9-6)  $4.00 per person.
11. If you travel west of Sheridan you can head towards the Big Horn Mountains and take a leisurely drive up in and over with breath taking scenery.
Make sure to pack:  picnic basket, table cloth, cooler with pops and water bottles, bug spray, sunscreen, handiwipes, and binoculars.