Running Time:  100 minutes
Rating:  PG
Disney Pixar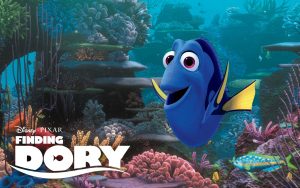 Starring:  Ellen DeGeneres, Albert Brooks, Ed O'Neill
With a rating of PG and a running time of 100 minutes, Disney Pixar's Finding Dory is a family friendly fun time that reunites fans of Disney Pixar's 2003 film, Finding Nemo, with several of the same characters such as the sea turtle dude Crush and his son Squirt, the fish school instructor Mr. Ray, and the "Mine Mine" chanting sea gulls.
The happy-go-lucky blue tang fish, Dory, takes her friends, the doubtful and worrisome Marlin, and his gentle spirited son, Nemo on an entertaining adventure as they begin a search for Dory's missing parents.
Once again, Ellen DeGeneres creates her energetic, crazy, child-like spirit as she portrays the forgetful blue tang fish, all the while struggling with short term memory loss..
While searching, the wide-eyed Dory unearths her own identity, creates great friendships, defines the impossible, and never gives up.
Throughout the movie, we once again hear our favorite Dory-isms, like her inspirational motto, "Just keep swimming," and hear her attempt at speaking "whale."
The movie follows the epic adventure as Dory's journey brings her to the Marine Life Institute, a conservatory that houses diverse ocean species. Dory has to save her mom and dad from captivity in order to have a happy ending.
Bottom Line:  Although not quite as fabulous as Finding Nemo, this movie came in as a close second with DeGeneres once-again portraying a lovable crazy character.  You will find yourself connecting with the characters, enjoying the underwater scenery, and feeling anxious as Dory and friends try to find her parents.  It's a thumbs up for us as we loved how Dory worked with her friends, remained loyal to them, and created new relationships along the way.