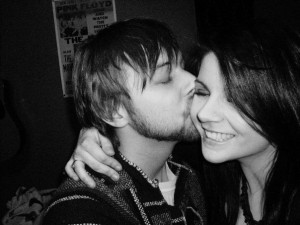 "To everything there is a season, and a time for every purpose under Heaven." Ecc. 3:1
Mom-"But, Jenessa, you love preschool, you will love kindergarten.  It will be okay."
Jenessa, age 5-      "No, Mom!  Teacher says I can't use this hand, I have to use the other one.  She says the world isn't made for people who use left hands."
K-"Honey, you will love the new house.  You'll have your own big bedroom. It will be okay"
J, age 8- "No, Mom! I don't want to leave the circle and my friend, Stephie."
K-"It's okay, Ness.  It will be alright.  Divorce happens to people and to families.  When we get there, you'll make new friends.  It will be okay"
J, age 13-"No, Mom!  It will never be okay.  How can I live without my family together?"
K-"I know it's hard, but you can do it and I need you.  We will only be two hours away from your sisters and your dad.  And Dean has his farm.  You'll adjust.  It will be okay."
J, age 17- "I'll do it, Mom.  I don't have a choice.  But it's going to be hard moving to a new town for senior year."
K- "A new house!  Wow, you will have this new kitty and a new home.  At least you don't have to move across the world this time.  You just have to move across the six acres!"
J, age 17-"It won't be so bad, except I finally got used to this room."
K- "A new school.  This college life will be better and just think, you get to stay with your mom and Deano."
J, age 18- "This time I'm excited!"
K-"Seems like a nice guy, Ness."
J, age 18- "He is, Mom.  His name is Pete."
K-"Wow, Nessa.  Where did the years go?  When's the date?"
J, age 22-"Pete proposed last night and it looks like next summer will be the wedding.  It won't be so bad, Mom.  You'll have Dean and Ben (our Chiauau).  It will be okay.
Life is filled with changes.  It never stops.  Each day will bring them.  In the past ten years, I've experienced, loss of jobs, loss of a marriage, loss of relationships, loss of neighbors, loss of church family,  loss of friends, loss of my bearings, loss of having my children close and loss of a career.  The hardest loss-my father.
But we can't stop them.  They continue to come.  And how we deal with them is what is crucial.
I looked back this morning, at my life.  I looked back to see that one child, the baby, followed me through it all and still is with me.  Most moms aren't this lucky.  With her going to the U of M, she has lived at home with us.  Next year, she will marry the love of her life, after 4 years of dating and 1 of engagement, and move on with her life.  Outside of her mama's.
Yes.  It's easy to be so excited for her.  Yes.  It's easy for Dean and I to be so sad for ourselves.  Jenessa is a big part of our lives.  From the minute we said "I do", to the half hour ago when Dean said, "I better look at that tire for you." And I asked, "What do you feel like for dinner, honey?"  But changes come, and loss is ALWAYS part of  change.  We lose something.  We can something else.
It's hard to look back and think that there were times and places that were so different.  And then my daddy's words pop into my head and I hear him gently saying:
"Kathleen, this is what you do.  You live in each and every moment like they will never be there again.  You grab, you embrace, you hold onto them for dear life and you live in them to their fullest.  And then, when time comes to gently escort them out, you can look back and know that you lived and you loved to your very fullest, with absolutely no regrets."
My dad is right, don't you know.  I look back and, sure,  there are times I can cry, but for the most part, I've lived in each and every moment.  I have lived and I have loved.  And change continues to knock at the door.  But for me, there are no regrets. 
K-"Oh, Ness, I'm so happy for you."
J-"Thanks, Mom!  Me too."