As I sit here at my computer, I'm looking out at the fields behind my home.  Farmer Dean says it's a bumper crop for soybeans, but it's just an "okay" year for the corn.  The weather has been crazy this year, as we all know.  But something has changed now.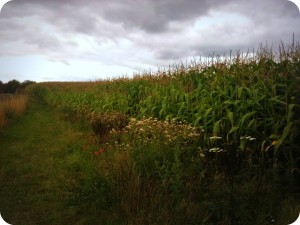 Today, the wind has shifted and there is a tiny fragment of a bite in the air.  I pull my favorite gray sweater over my head, and my husband smiles as he questions me, "What?  No pajamas today?" ( I tend to write in my pink striped pajama pants with grey gap tshirt.)  "No!  It's a new day, a fall day, and I'm wearing a sweater."
The garage door slams shut and off he goes, wearing his worn out jeans, black tshirt and heavy work boots that look like they've been through World War I.  I watch as he nimbly climbs up into the high seat of the big combine.  The sun is shining brightly, warm on the machine as I hear the engine start up and begin to do that same whirr that I'm now accustomed to.
Yesterday, I seemed a bit dazed and confused as I craned my neck to the window.  I heard the faint sound of what I thought was church bells sounding out.  Ring, ring, ring.  But what was the melody?  And which church had bells in town?  Wait!  We live 10 miles away from town. I realized I would never hear bells from a church tower that far away.  I listened again.   It was the distant hum of a combine from the neighbor's fields.  No, not a church bell, a combine.
But an idea rang out in my brain yesterday.  I realized that as I look out of my window now, something is different.  I have a peace-filled soul now.  But, why?  What was the difference?  Oh, yes, I know it now.  I can see again.
When I sit at my desk and create, I look out over the vast miles of farmland.  But as the year draws to a close, I begin to feel a bit claustrophobic.  I look to left and right and there are the groves of trees.  To the front and back there are the tall fields of corn.  One cannot look out and see anything until the farmer gets in that combine and down goes the corn, drawn into a big machine that plows it down and clears it out.  Eventually something fabulous (grain) comes from that overgrown, dead looking, very tall field that blocks my vantage point.
Here's what I know: It's a bit like our hearts, don't you think? 
At times we can become so weighed down with life's burdens, our worries and cares, and even our very own sin, that our heart becomes a place that's overgrown.
Our vantage point is cluttered and blocked.  No longer can we see out over the corn rows because of bits and pieces of turmoil and gloom.  No longer are we free to run and roam, gaze and gander, but instead we are forced to be withdrawn and limited with our vision, sitting inside the walls of our souls.
Today is the day that the combine of God's Word, Truth, and Forgiveness needs to come into your heart, mind and spirit.  We need to let God climb aboard the big combine of the fields of our hearts and purify them, driving away the sin and doubt, taking in all that's bad and making something new and fresh with it.
And once it's gone and cleared out, we will know this:  ah, yes, the comfort of being able to see again. Not just close up, but freedom to see past the darkness and into the far away light of tomorrow.  A new day.