I'm a people person.  I moved from the Twin Cities, after twenty six years of living with mass confusion, loud sirens and noises, city lights, hustle and bustle of busyness, and crowds, and left it all to move out to the country.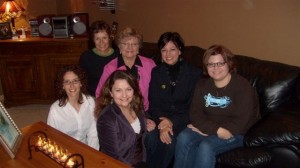 We live on six acres, surrounded by my family's 720 acres.  I live next to the fields, and the only vehicles I see are combines and diggers, with the only sounds coming from the cows next door.
It's beautiful, but if you're my close friend, you know this:  when I got here, I stood in the yard looking every direction, and screamed, "Where are all the people?"
Introverted husband, Farmer Dean, loves the quiet, and feels overtly happy with the quietness of the surroundings.  Kathy has spent many a day crying.
Over the past couple of years, I have learned to take time to go to where the people are.  I travel to the library, the grocery store, the park, anywhere that I can sit down and just listen to the hub-bub of people talking, laughing, crying, and just existing.
But as I look at my love for people, I've come to realize something at this ripe old age of 49:  I need them in my life.
Friends have made up an important piece of the tapestry of my life.  And today, as I'm thankful, I look back at some of those people who have had such a great impact on my life.  People like:  Mom and Dad, Marcie Mason, Keith Tally, Randy Woolson, Brenda Jo, Kristin Baumgarten, Pat Wagoner, Mr. Watz, Mr. Wedeking, Mr. Pottinger, the Hardee brothers, Lynn Zook, Joel Smith, Annie, Carolyn, Tammie and Judith, Kevin, Jimmy, Pam K, Aaron, Grandma Mary, Jennifer, my Best Life Team, Channa, and the Haakensons, Penny, Sister-in-law Mary & the rest of my family, have all been threads that have woven into the piece of fabric of who makes up Kathy Youmans Arne Weckwerth. 
There have been days that have been great, and then some that have been horrific, per the normal days of a human's life.  God has sent these friends to me in different shapes and sizes, with different gifts and personalities, and they have walked beside me for periods of time.
At times, those friends walked into my life and have stayed there.  Friends like my folks, Keith, Brenda Jo and Lynn have walked by me, through fun times, and through sadness.
And often, there are friends who are there in your journey for short periods of time.  Perhaps they walk by you to fulfill a purpose that God has set before them.  Perhaps they are there because they provide something in that space and time that is literally representing the hands and feet of Christ.
I think back, again, to that period of time in my life that was my darkest.  I had gone through a horrific shock to find out that my (now ex) husband was involved in a double life.  I had sold much of what I owned, taken my girls and moved to safety with a few dollars to my name, and the clothes on our backs.  We moved to a sweet, little Grandma house in Elk River.
Several of my friends from the worship team in Maple Grove followed me to my new position in Elk River, as worship director at a Lutheran Church there.  Those friends and that church became my life's existence.  They were truly the hands and feet of Christ.
They provided a job, rides, lunches, money, encouragement, prayer, support, yard care, snow shoveling, helped me find my home, as well as deep friendship and camaraderie.  
When I felt hopeless, they offered hope.  When I felt discouraged they prayed with me.  When I was strapped and could not pay bills, they paid them.  I even remember a young senior in high school, a friend of Chandra's, who found out that we didn't have much food on hand one day, and she grocery shopped and brought over staples like bread, milk and peanut butter.
Those friends, in those days, were like a life support machine that I was hooked up to.  The machine~ God.  The life support tubes~His people.
One friend in particular, provided a friendship like that of David and Jonathan.  She never left our side.  She provided food for our family, helped pay bills, drove us everywhere, gave us a couple of vacations, cried with us, laughed with us, assisted me in my position at the church, prayed over me, and literally thought for me, when I could not even think.
But, as God often allows, Dean came into my life and the move to Benson took precedence.  I sold the few things that I had accumulated over my almost five years there, and packed up to move to the Great Unknown.
The friends were there when I needed them the most.
Chandra always tells me that there are times when God moves people in and moves them out.  They do the work He has for them, and then they are moved on. 
Friendship is so very important to me, that I have a hard time when God physically moves people away, or out of your world.
So, for today, I want you to think about the people God has placed on your journey.  Think about who they are and what they represent.  Think about the things that they have provided:  kindness, a listening ear, a lunch, a laugh, a support system.  And thank God for them today.  They are a provision from Him.
And to those friends of the past that perhaps are now helping someone else on another journey, I say Thank you.
And to those friends who are right here, right now, walking along side of me, as I walk along side of them, I say, Praise Be to God, who has provided me with the wonderful life supporters in my world.  You are the hands and feet of Jesus.  And how thankful, how grateful I am for you today. 
"I thank my God every time I remember you." Phil. 1:3
Thankfulness.  It does the soul good.