"Mooooooommy!"
I roll over and try to go back to sleep.
"Mooooooommy!"
Hmmmphf. Time to get up. I look at the clock.
2:30 am.
"Jesus, give me strength" I prayed.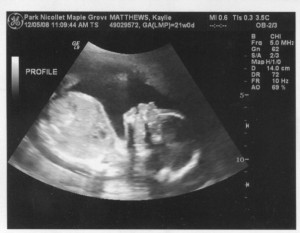 I get to my daughter, and I knew instantly something was wrong. Another ear infection. I started our usual routine of Tylenol, warm washcloths, and a movie. Only this time, it didn't cut it. She was hurting too bad. After 2 trips to the doctor, some medicine and a few changes of outfits, she was out. I went right to bed, grateful it was over, but dreading when she would wake up hurting.
8 hours later, she wakes up, and I get the sweetest loves and snuggles a mom could ever ask for. She kissed my whole face, she snuggled while watching tv, and she shared quite a few "I love you" moments with me. A 2 year olds way of saying "Thank you, mom."
[calloutSo what am I thankful for? The greatest gift God ever gave me. My sweet, precious girl. You see, I may care for and protect her because I love her and that's my job as her mommy, but before she was even born, she saved my life. [/callout]
I learned I was pregnant with my daughter when I was 18. Needless to say, it was a very low time in my life. I was the farthest I had ever been from God, living in promiscuity and not looking to stop anytime soon. Suddenly, in one moment, holding a positive pregnancy test in my hand, my life took on new meaning. It wasn't about me and my selfish, sinful ways. It was about this perfect, innocent life that God was weaving together. I think God saved me by giving me this enormous responsibility.
On the day she and I met face to face for the first time, I was met by this overwhelming realization of what true love is. I loved her so much it hurt. I didn't let anyone take her out of the room. I just sat and stared at her. She was perfect. Her soft, fuzzy little head, her piercing blue eyes, her tiny, sweet little squeaks at night. I counted her fingers and toes, I sniffed her sweet baby head, I cherished every moment. She was mine, and she was perfect. God took my sin, and created something beautiful and perfect out of it.
In that moment, I got it. I understood one of the ways God loved me; like a parent.
If you would've told me that day that I needed to die for her to live, I would've asked you where to sign. I would literally lay down my life to protect her. That's what Jesus did for us. He laid down his life, because He loves us that much. I can't imagine my life without my baby, and Jesus can't imagine His life without me. Talk about humbling!
Today, my sweet pea is 2 ½. Oh man, what a vivacious, talkative, feisty kid she is growing to be. Every day I get to be her mom, is the best gift ever. She makes me laugh, she makes me cry, she makes me want to be the best me I can be. She makes me want to grow closer to God, so I can be the best me. I know there will be days where she may disappoint me, or where she makes choices I don't approve of. But I will always love her the same. Nothing, and I mean nothing, could separate her from my love. In the same way, nothing could ever separate us from God's love.
So this week, hug your babies (or your parents), and thank God for the gifts He gave us on this earth. Most of all though, thank him for the ultimate gift He gave; his son, and his life, for us. It was the biggest act of love, ever. Even though we didn't deserve it, He loved us that much.
Tonight, as my two year old ran up the stairs to bed a happy little camper, she yelled back "I love you, mom!"
For that, I am truly grateful.
"I have loved you even as the Father has loved me. Remain in my love. When you obey my commandments, you remain in my love, just as I obey my Father's commandments and remain in his love. I have told you these things so that you will be filled with my joy. Yes, your joy will overflow! This is my commandment: Love each other in the same way I have loved you."
John 15:9-12 NLT
Thankfulness.  It does the soul good.