I love it when God uses me…it is such an amazing, awesome, incredible honor…that He chooses to use me when He is all things, all powerful and doesn't need me for anything.  It's so humbling!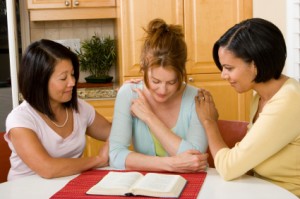 This past week I had the incredible privilege to be present and lead a friend to Christ when she was ready to take that step. It was so very sweet to pray that prayer with her!  I've been praying for her for years, and God has been in hot pursuit!!   Like being at a wedding and remembering all the beauty and love and joy of that first day of the rest of your married life.  I was walking it with her and getting Holy Spirit 'God bumps" in the process.  She had been struggling to surrender for years, and came to the end of herself, saw that "brick wall" that looms before us all, and said she can no longer "do life" on her own.   It was such a sweet sensation in my spirit to help usher her into the Kingdom from being a created, child of God, to an adopted daughter with a full inheritance!!
I prayed for God to speak through me and use me.   I was reminded as the words tumbled out of me, just how amazing this gift of salvation truly is.
Rom 10:9-11  "That if you confess with your mouth Jesus as Lord, and believe in your heart that God raised Him from the dead, you will be saved for with the heart a person believes, resulting in righteousness, and with the mouth he confesses, resulting in salvation.
 For the Scripture says, 'WHOEVER BELIEVES IN HIM WILL NOT BE DISAPPOINTED.' "
 It's so simple, yet the most important decision a human can make.  God knew how broken this world was after the Fall in Genesis 3, that He already had a plan in place for redemption for us.  In the meantime, He leaves us with His word to introduce Himself over and over again, building intimacy into Who He is, and letting us reflect on how that translates to who we are in Him.  He's so good and so gentle, patient, and loving. 
He created a covenant that is everlasting, a bond that cannot be broken no matter what the world throws our way.  That is an amazing gift!
As I'm reminded of the simple truths of my faith this week, I am more in love with my Father God, Daddy, Abba than I've ever been realizing His gifts and sacrifice have nothing to do with Him, but are for me.  He is so selfless, so real and raw in becoming a mere human, taking on flesh with all of the brokenness and hurt that comes with that.  Then taking on all sin, every sin that was ever committed, or ever will be onto Himself, and then battling our enemy for 3 days.  His Resurrection and Ascension have given me that abundant life that He spoke of in John 10:10.  Living on this side of the cross, in the power and authority bestowed upon me, is where I can rest, live, and thrive!! 
Always be ready to be able to share the gospel…to be able to speak of the hope that is within you. 
1 Peter 3:15 (NASB)…always being ready to make a defense to everyone who asks you to give an account for the hope that is in you, yet with gentleness and reverence