When you go through deep waters, I will be with you. When you go through rivers of difficulty, you will not drown. When you walk through the fire of oppression, you will not be burned up; the flames will not consume you. Isaiah 43:2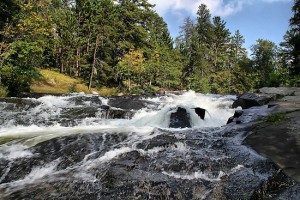 It seems to be a given.  No matter what you do, there's always trouble.  The car breaks down, the lawn mower won't work, the boss at your job has a flu and you get it, the telephone bill has mistakenly billed you 1000.00 instead of 100.00, your dog ran away, you forgot to pay your Visa bill, ….on and on the days tick by.
And in today' world, it seems like the trouble comes like we're in the last moments of labor.  You just take a deep breath and the pain starts 1 minute later.
I felt trouble today like it was a big heavy wet wool blanket, stifling my breathing on this hot muggy day.  The calls and emails were coming, the mailman delivering bad news (the mailman at our house is my husband), the problems seemed insurmountable, and the clock of life kept ticking. 
That was it!  I couldn't take it and ran to my unmade bed and climbed in covering my head completely from the world.  In comes Farmer Dean (my husband's also a farmer) and quietly says, "Honey…..Whatcha doin'?"  "Hiding," I answer.  "What from?" he asked.  "Trouble."  He gently sits on the side of the bed and says, "I have some bad news for you….I think it's going to find you anyway."
He headed outside to mow the lawn while I laid in my bed moping a bit.  "Why? Why?" I asked God.  Why does it seem like there's always several awful things at once.  Do you know what I believe?  I believe that we can go for about 3 days without problems, and then it hits.  If you're someone who actually can go longer, please take me out for lunch and explain your secret phenomena, because I just don't get it.
And then it happened.  Just like that it hit me.  I felt that still, small voice of the Holy Spirit saying, "Kathy, what do your favorite heroes of the Bible have in common?"  And I smiled as I recited them outloud:
Noah and the Ark
Abraham and Issac
Moses and the Israelites
David and the lions den, Goliath and depression
Queen Esther and the kingdom
Jonah and the whale
Steven and the stoning
Paul and Silas in a prison cell
The disciples out in the storm
Mary having a baby
And most importantly….Jesus and a cross
The people I read about in my quiet times struggled just like I do.  And quite honestly, they had it a lot harder than I do. 
Yet, we all have one thing in common…..God was/is with us.  We don't walk through the trials alone. 
I took some time to just pray.  I laid every single concern and problem at the foot of the cross.  I rejoiced as I thought about the list of Bible characters who had suffered for Christ's sake and had tenacity to walk through problems.  They kept going….they didn't hide….well, Jonah was trying to…but that's another story.
 I threw back the covers, took in a deep breath and got back to work.  My husband came in peering over my shoulder as I continued working, and said to me, "There's a knock at the door…should I get it?"  "Who's there?"  I smiled.  "Trouble,"  he answered.  "I'm not surprised….but this time…I'm not hiding."