"I pray that God, the source of hope, will fill you completely with joy and peace because you trust in him. Then you will overflow with confident hope through the power of the Holy Spirit."  Romans 15:13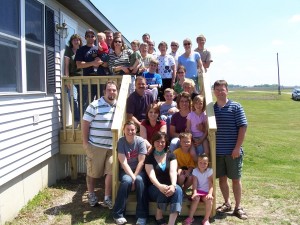 1,2,3.  Start Over. 
Dean and I have a nephew named Derek.  He is a young, smart, twenty- something with a great personality, a passion for life, a big smile, and cerebral palsy.
I have been a part of the Weckwerth family for these past seven years.  When I started coming to the family get-togethers, one of my favorite things was when Derek would count the people at the dinner.
Because Farmer Dean has 6 siblings, and they have children of their own, the get-togethers at Grandma's farm, are packed.  One by one, the brothers come in with their families, and one by one all family members are counted.  Their names are recited.  I love to hear Derek's version of their name.  His excitement is catching as he points his finger and counts slowly:  one, two, three.
But something always happens!  Someone moves.  Someone heads out to the barn to see the turkeys or the kitties.  Someone goes upstairs or downstairs and the counting begins again with an abrupt, "WAIT!  Start over."  One, two, three.  Wait!  "Start Over!" happens as often as the gatherings occur. 
The latest dinner event happened, and again the "One, two, three, wait! start over" took place, and it occurred to me that sometimes the start overs are really tricky.  They can be very difficult.  People will still be moving and milling about and Derek just can't get organized.  Nothing works and the numbers are too difficult to count.  At times, he will become frustrated.  Grandma Marion's calm spirit will help him and he'll begin again, and she helps him to count.
There are start overs in our lives, aren't there? 
Maybe it's a divorce you're going through, or maybe it's a death of a loved one and life now looks different.  Maybe it's a job loss.  Perhaps it's the loss of a friendship because you've moved away.  Or maybe the start over is a diet, or recovery from drugs or alcohol.
My life has been a start over recently as I am back to leading worship in a local church.  I know some things about the start over process:
1.      It can be painful
2.     It can be humbling
3.     It can be awkward
4.     It's hard to be at the top of your list, with the numbers of who you have at the dinner, and have to start over.  Likewise, it's hard to have all of your team gathered, know your staff, know your boss, and then start over.
As long as I have been a worship director, God has put in me in the place of Derek.  I get to count slowly, steadily, and time goes by.  The churches are brought through the upstart of worship ministries, people are led, and the Lord grows them.  And then, just like that, everyone moves around, some going upstairs and some going outside, and he leads me out to something new, a place that needs me, and  I have to start over.
My friend and mentor, Pastor Frank, as well as an old boss, Greg, have told me for years, you are the starting point.  You are the place where it begins.  But God doesn't always allow us to finish and complete the count.  Sometimes He uses other people to do that.  Sometimes the start over is just what we do.
I am at that place now.  If you are there with me, oh, how I reach out my hand and my heart to you.  This place on the journey, the start over, is filled with anxiety and humility, and ultimately a bit of confusion and sadness.
The start over places in our lives might be filled with those emotions, but you know what?  It's a beginning.   It's the newness of life and God is His glorious self and He knows what's best for us.  We have to walk it through and trust in Him.
And so I begin again, ultimately, with those 5 simple words:
One, two, three, start over. 
May the God of grace and peace cover our hearts and minds completely, so that we may know Him fully and believe that He is the one that plans out our lives direction.  And HE, He alone, counts us valuable and makes our lives count.
Bless you,
Kathy