Always chosen last at basketball (and that's fine because I would always chose basketball last myself), a bold Christian in a school of many non-believers, quirky, creative and generally speaking, an artist, I have experienced the….no….we don't really want you because you're the odd man out.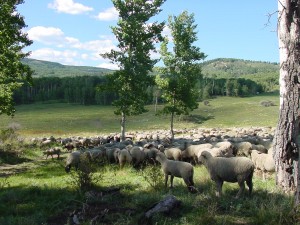 Have you ever experienced this?  Perhaps not.  For me, when it came to music, there were no issues.  When it came to creating stories, my friends would line up and say, "Can you give us an idea for our story?"  Or in creative communications, I sailed and soared as I delivered my talks.  But for one reason or another, be it sports, or something about math or dances, I was one of the characters from the Island of Misfit Toys (check out Rudolph the Red Nosed Reindeer).  I just never really fit in.
This is one of my utmost highest requirements for living this life:  I find the castoffs, those that no one believes in, and I implement them into ministry.  And I've found that not only are they humble, they really are gifted, you just have to find out what and where that talent is, and I pull it out and they are chosen to serve.  And when someone believes in you, you just do better.
As we look at Luke 2, we see that there are shepherds out taking care of their sheep.  Scripture says they were (2:8) "…living out in the fields nearby, keeping watch over their flocks at night."
And then bam..it happens.  The angels appear.  (vs. 9)  "An angel of the Lord appeared to them, and the glory of the Lord shone around them.  'Do not be afraid.  I bring you good news of great joy that will be for all the people.  Today in the town of David, a Savior has been born to you; He is Christ the Lord.  This will be a sign to you:  You will find a baby wrapped in cloths and lying in a manger.'  Suddenly a great company of the heavenly host appeared with the angel, praising God and saying, 'Glory to God in the highest, and on earth peace to men on whom his favor rests.'" 
You might be asking yourself "Why?  Why show up to some stinky men out on a field watching out over smelly old sheep?"
My brain begins to whirl with thoughts.  Here are some of them:
1.     In scripture, God seems to continually compare His people to sheep (the flock) with Jesus as the Good Shepherd.  The angels are appearing to the people leading the flock of sheep.
2.     Maybe these simple people were just more aware and open to hearing from God.  We see over and over in the New Testament that the "spiritual leaders" tend to ignore, resent, complain, and accuse Jesus.  Then, they end up killing him.  So much for the mainstream popular ones.
3.     It's the nighttime when they appear.  How amazing to have the sky lit up with the Bethlehem star and angels appearing.
4.     The reputation of the shepherds?  Well, apparently they are the misfit toys on the Island.  My study bible (The Quest) says this, "The more orthodox members of society despised shepherds for being unclean by strict ceremonial standards.  Their reputation was that they were untrustworthy-a shepherd's testimony was not valid for legal matters."  But God sends angels to the misfits…the castoffs.  The first witnesses of the Savior's birth are the ones never chosen for basketball.
5.     Could it be that these same shepherds, the ones who are "unclean" (who wouldn't be living out on the hill with a bunch of sheep?) are representative as well, as the unclean humans that Christ came to save and cleanse with His blood on the cross?
6.     The King of Kings, a small baby, placed in a manger inside an unclean stable, with animals, reaches down from the highest places of Heaven, to the lowest places of earth, and is announced to the average Joe Schmoe Shepherd.
And I love how they respond.  Luke 2: 15 says that after the angels announce Christ's birth, they talk and decide they are running, not walking, to Bethlehem to see the Savior. 
Can you imagine getting there, seeing that everything that was told to you was true (they certainly had faith, didn't they?) and they visit and race off to tell everyone what happened something like this:  Mr. Smith, you can't believe what just happened to us.  Angels showed up on the hills and told us a Savior was born in a manger downtown in a stable.  We raced down there as fast as we could, and there He was.  You've gotta go check it out.  You'll be able to visit the same One who was sent to save us from our sins.
And there you have it.  The last shall be first and the first shall be last, scripture tells us. 
The misfits were the Ones God used.  The misfits are the Ones that God uses.
And I just love that about Him.