Therefore encourage one another and build each other up
I Thess. 5:11 
I stood in line at the grocery store waiting….waiting….I was purchasing powdered sugar for the lemon bars I was going to bake, and I needed to have some sugar to sift out across the top when they were finished baking.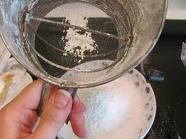 In front of me there was a kind, older gentleman who patiently held his loaf of bread.  Behind me stood a mother of two younger children who were happily trying to collect gum, water pistols and candy bars to add to their collection, while the mother intentionally looked away.
And then it started…..the complaining.  I listened as the husband and wife behind them began to insult our cashier.  The young girl looked disheveled and ready to burst into tears any moment.  I wondered if the couple hurling suggestions really had any idea what they were doing.  Was it the cashier's fault that everyone and their brother were at Walmart?
About one hour later, I stopped by to pick up a pizza for dinner.  The boss behind the counter grumbled some unkind words to the young boy fixing my pizza.  I literally saw the young man's shoulders slump and his head hung down.
When I left there to head to the coffee shop on my way home, I listened as a woman with a sharp tone attacked my youngest daughter who works there.  My daughter flinched, her right eyebrow raised a little in a high half circle like it gets when she's irritated, and then I watched as she went on to try to resolve the issue.
I pondered all of this on my drive home.  I thought about last night and how I had tried to mend a broken fence with some kind and soothing words.  The answer back to me was to attack me with some underlying negativity that made me question who I was.
Grandma used to say that when you sift it all out, you look at what you have.
Here's what I believe:  society is addicted to an entitlement attitude, and we want to bring others down and be critical.  But why?
Does it make us feel better about ourselves?  Does it make us feel in control when life is out of control?  Does it help us get anger out when we're really mad at someone else?  Sift it out.
The people in the Walmart line were irritable because the children in front of them were just being kids.  While the pizza man was having issues with his cash register not working.  And, well, I think the coffee cup woman was just thinking she deserved to be treated like she was better than the rest of the world….entitlement.
But do we really have the right to bark, snip, push, and cut down those around us.
When we look at scripture, we see Jesus Christ continually taking the critics' words, attitudes, and actions without complaining.  I wonder how He did it.  But we read scripture and it tells us to build one another up….to encourage one another.  Why can't we do this?  Why must we continue to harm, tear down, and destroy?
If I look at how I am treating people…I know I can choose to be different.  I did choose that today.  I told the Walmart cashier I thought she was doing an excellent job and asked her how she could be so patient with us.  She burst into a nervous giggle and said "Aw, that's okay."  Her mood lightened.
The pizza boy crafted that pizza like he was Rembrandt…and I told him so.  He grinned from ear to ear and stood a little taller when he handed it to me.
And my daughter….well…I just hugged her tight, grabbed my ice tea and said "You're the best kid in the world!  See you tonight….we're having lemon bars for dessert."
"Mom…you need powdered sugar" she said.  I turned and smiled and said… "Yeah…I got it!" 
Sift…sift…the white powder goes out across the lemon bars and I realize that while I was sifting out sugar now,  all day I was sifting out words and attitudes.  I see what it looks like…it's not pleasant….it's habit forming.
When we continue to treat people who are trying to serve us, like they are less, when we secretly use our words to cut deep from resentment for someone's past mistakes, when we snip at our spouse, when we're impatient with the fact that we can't control everything….well..we're definitely not our best.
I'm munching on this delicious lemon bar now and thinking about the past summers with Grandma. 
She was right….when you sift it all out…you look at what you have.  I'm making every effort to encourage this world….one person at a time.  Will you join me?