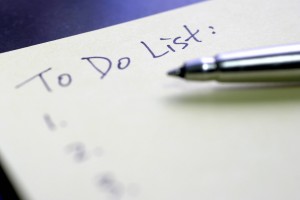 Best Laid Plans
Hi, this is Kathy Weckwerth from Best Life Ministries.  Here are some thoughts for living your best life…today…. 
Sometimes the best laid plans never happen.    How do we respond when things don't go our way? 
Recently, my to-do list had grown to great lengths, and I set aside time to pound out items 1-8, only to find the internet down.  I couldn't work at all! 
I groaned, moaned, and prayed.  After an hour, I gave up and gave in. 
I put in an old Doris Day movie, walked my dog, baked a batch of ginger snaps and took a nap. 
When the day was done, I felt refreshed and restored.  God had unplugged my computer from Planet Earth, to get my attention, and some good soul care took place.  
 Proverbs 19:21 says "Many plans are in a man's mind, but it is the Lord's purpose for him that will stand."  
How will you respond next time things don't go as you planned? 
For more info log onto bestlifeministries.com.  It's never too late to make changes, start today…..start living your best life.