Our sweet Mary is now dancing with the angels, as she met Jesus this morning about 2:30 a.m.  I can still hear her telling me, "Kathy, I keep asking Jesus, 'can I meet you today?  Can I come and see you today?'"  Today was her day to meet our Savior.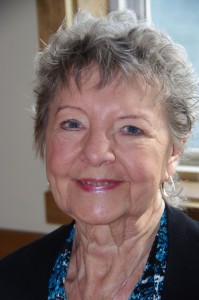 I can speak for Best Life Ministries, each who worked with her, and each life that she touched through her prayers within the ministry, and say that we will miss her, we love her, we are grateful for her, and we have learned much!
Here is Mary's excerpt from our recent YOUR BEST magazine.  Blessings to you today,  and if you ever wonder how God can use your prayers, know that Mary's example rings out to all of us……our lives were changed by the prayers of one sweet Grandma.
I Stand Amazed
By:  Mary Anderstrom
A large picture graced the front of the sanctuary in my church, as my pastor delivered a message called "The Truth of the Holy Spirit."  It captured my attention in a new and fresh way, as I studied the beautiful panoramic view. It spoke truth in volumes. Blue sky and patchy clouds, with brilliant sunshine and crevices escalating down from high peaks, filled the canvas.  I saw blue sky hovering above beautiful mountains with peaks so sharp it appeared they would protect anything that tried to destroy their massive creation.  
A blue sky accentuates God's creation with a peace He alone can give. There is certain serenity in a blue sky. I have looked upward many times in wonder and amazement. Truths from the Holy Spirit, as the calm blue-sky hovers over me, bring me courage. It is a precious affirmation of my Great and Powerful Creator, God. 
Patchy clouds appeared to have their way in the sky, taking charge for the reason God created them, are like peaceful signs to me of God's grace. 
I believe God allows patches, like the fluffy ones floating high above, to form and provide protection over my trials. They remind me of my need of Him.  Jesus knew all about my trials and troubles, and for this reason I know He understands and sees me through each and every one. Cloudy days do come, but blue skies prevail. God's peace transcends all understanding and guards my heart and my mind in Christ Jesus. 
Brilliant sunshine peaked through, leaving a sparkling reflection across the pool below. The path from the reflection seemed to have no end telling of the promise of eternity.  It all appeared so magnificent.      
I saw crevices spiraling downward from the mountaintop to points unknown. I believe the crevices, ugly as they seem, appear to intrude into the perfectness of the mountain. At times streams of rain pour down ~ sometimes trickle down. Crevices dug deeply into the rocky mountain. It reminds me that sin finds no perfection. It only pierces deep into my heart and tries to hide there. It interferes with perfection as it tries to dig deep into my heart. My sin needs forgiveness by pouring, trickling and washing too, of Jesus' bloodshed for me on the cross. It speaks to my Spirit, a truth that the blood of Jesus flows with power down the crevices of my heart with the promise that I am forgiven. The necessity in it all is to repent and confess. 
The words of a familiar hymn present a precious promise. "Jesus, keep me near the cross, there a precious fountain, free to all, a healing stream, flows from Calvary's mountain."  The promise in it all is to know God loves me so much He forgives me. I am free!  I Praise HIM! 
  I believe the peaks spiraling high to the Heavens reveal life's mountain top experiences so great we cannot forget them, the kind of peaks that bring me right to the heart of God with awesome appreciation of who He is. 
 Meeting Jesus on the mountaintop brings ultimate joy. It is that sweet time when I commune in private prayer, talking with my friend, Jesus. It is that sweet time when as I quiet my spirit, my friend, Jesus, speaks to me through the power of His Holy Spirit, an unexplainable experience that has no specific place or specific time. It happens as I am aware of His presence which I know surrounds me. 
 In my lifetime of a wonderful 79 years, the blue sky has given me courage to face health concerns way too big for me to figure out. Cancer, like the deep crevices, found its ugly path into my body in the form of trials that bring cloudy days. Those days never remain cloudy as the brilliant sunshine has power over them in the form of God's protection. The crevices revealing a road traveled fighting a disease that will end my life, hides no more. Jesus is in the Heavenly healing process bringing ultimate peace to my soul. 
 The picture on the wall demonstrates the radiance of God's Son, Jesus, and goes right to the pool of my heart. God casts His beam of light reflecting His affirmation.        
My cancer is aggressively attacking my body and soon I will be meeting Jesus face to face. It will be on God's Heavenly Mountain.
The Holy Spirit reveals that My God not only made the mountains. My God IS the mountain.
Describing the picture with its brilliance and magnificence is impossible from this earthling's perspective. The truth of it all is that I stand amazed!
~~ "The C in Christ is bigger than the c in cancer" ~~
 ****Photo Taken By Alexis Iskierka