Yesterday, I was sipping hot coffee out of my Perkins mug, munching down a cheesy mushroom omelet and looking at my friend, Kathleen, sitting across the table from me.  I had just made this crazy statement….. "What in the world is wrong with me!?  I feel like I'm either jumping up and down with happiness, or crying….what's up with that?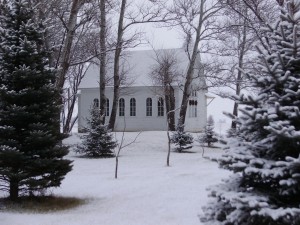 These past few weeks, I feel like my life has been like the weather in Minnesota….warm and sunny, chilly and dark, warm and balmy, and today, a snowstorm. 
My thoughts were whirling when Kathleen pulled out a piece of paper, looked at me and said, "Start writing."  I wondered what we were going to write. 
"You have had the most difficult year, but you just don't realize it."  She explained to me how it would help if we listed all of the big life changes that had occurred. 
I began to write a list that included the death of two friends, one of them a very close friend, the marriage and moving out of my youngest child, the purchase, move and lots of media coverage of an old church, decision making, change in our ministry staff, as just a few of the changes.  The list consisted of sixteen big things, and as I looked at them, I began to understand myself why I felt a mix of emotions from day to day. 
Have you experienced this lately?  One minute you're rejoicing and the next you're feeling in a slump or overwhelmed.  Maybe you're just tired out.  I realized I had been moving so quickly that when I actually slowed down I was tired.  Really tired.  Not the kind of tired that goes away with sleep, but tired on every level….emotional, mental, physical or spiritual.  I had been taking care of a ministry, a family, friends, and had been lacking in taking care of myself. 
One thing I learned from my friend, Pastor Frank, so many years ago, is that when you're living this life….you work hard.  But then work gets set aside and you play hard.  You fill your soul with the good things of God.  You take time to see things that are beautiful, like yesterday, walking out in the snow and taking photos of Frank Lake Covenant Church in the Grove.  Or you make time to eat things that are really yummy, like lunch today at Marion's, with chicken and mashed potatoes and gravy.  Or you take time to listen to something great, like John Ortberg's podcast from Menlo Park Presbyterian Church (my favorite author).  Or, you just call your friends and meet for coffee at Perkins. 
I had forgotten.  I had forgotten that in this life we work and we watch as life's events bring warm sunny days that are filled with happiness, or dark cold days that are filled with snowstorms. 
We can't control the weather of our lives, but we know the One who can. 
Today, I'm leaning into God…and I'm leaning heavily.  I have some work to do, but I understand my feelings a lot better, thanks to coffee with Kathleen, a list that made me understand my life better, a great meal, a good sermon, and a lovely church out the window that looks like it was there this whole 112 years. 
May your days be filled with warm and sunny days, and may the snowstorms make you realize that there are days when being inside and allowing time to tick by slowly….is really okay. 
Exodus 39:6-7  " I rejoice in Your attentive love, my Lord.  My name is always before You.  I am safe; living beneath Your gaze, ever in the view of Your watchful eye.  My personal cares are lifted before Your throne; born up on the shoulders of Jesus.  On good days and bad, in every circumstance of life, this will be my confidence, and all my trust will be in You."  The Worship Bible