Life is a strange journey at times.  Day in-day out, we are thrust into the pieces that make up our lives.  Happiness, sorrow, fear, courage, patience and busyness all make up the days and nights of this thing called life.  And yet….it all somehow weaves together and make the very essence of life….yours and mine.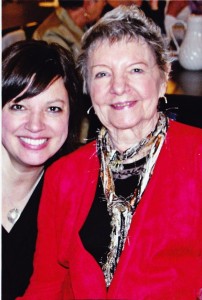 As much as I love moments in life, I do not treasure the moments of a certain piece of life…..death. 
It must be, we know that.  It must come and go, as the ebb and flow of the ocean waves, but tonight, sorrow and sadness wash over me, and I feel very small. 
I am sitting looking at sweet Grandma Mary, as my children have so fondly named her.  The name stuck when she became the ministry's Director of Prayer and Care Support, something that not only was she perfectly suited for, but certainly seemed to be made for, she just kept the name….it suited her….Grandma Mary. 
Mary is now swaddled in a tan sheet, tucked into her hospital bed.  I am thankful that we are in her home and her family is surrounding her.  We are together now. 
I look at Mary's gray hair.  It's pushed back against her forehead, skin now pasty and gray, welcoming the death that will soon encompass her.  And suddenly I remember a beautiful fall day, where our team was at the park taking pictures, and Mary laughed so hard because the wind continued to blow her curls across her forehead.  "Oh, it doesn't look good!" she exclaimed when the photos got back.  She looked beautiful.  I brush the bangs back now, and give a kiss to the clammy skin. 
Mary's eyes are closed tightly and I think of the many, many times I listened to her prayers, while I watched her hands folded and eyes closed shut, and I remember…..I remember days where Mary knelt next to me and begged God for answers to prayers that we lifted to the Heavens.  I remember me driving the car and Mary bowing her head to pray over a grandchild, or one of my children.  I remember how one day, she held up glasses to her eyes and asked me, "What do you think of these?  Do they make me look old?"  And I fight back a smirk as I question how anyone could look so young and be 79. 
Her chest goes up and down now, with odd, shallow, breathing, and I am reminded of seeing that same chest heave up and down as she spent moments sobbing about her dear Karna, who died so young.  Or when we sat only 7 short months ago, at Willmar's hospital, looking at her husband, Grandpa Gene, as he laid on the hospital bed so peacefully taken to Heaven from a heart attack.  Her chest would cave in with every sob and cry, as she expressed her grief. 
Mary's mumbled some words now that sound like she needs water, and I watch her sweet grandchild helping her, and think back on how many times beautiful, encouraging, words came from those now, dry lips.  Not just for me, mind you, but for anyone and everyone that had contact with her life.  The number of people she encouraged and prayed for was insurmountable.  And those lips would be famous for a rich, hearty laugh, or a lovely alto harmony that would accompany a worship tune that I had sung while we were driving. 
I look down at Mary's hands.  They are swollen now and so heavy.  I caress them lightly and remember how many times she held my hand to bring me comfort.   I think of my daughter's recent wedding  where I was wondering why our lives had turned out the way they had.  I didn't even say a word, but felt her gentle hand reach for mine as she said, "I know what you're thinking."  Of course she did.  That was who she was. 
I have cried now.  I have cried and cried,  and yet the tears still come.  I want to be strong for her family members….but I cannot….not yet. 
These past 7 years, I have learned so much.  And anyone who has been fortunate to call Mary, "friend" has learned so much right along with me. 
I am a better person because of Grandma Mary.  I know more about women's ministry, I value worship at a deeper level, I have learned about marriage and grandchildren, I have laughed over a starry night, and soaked in the glimmer of the moon on her lake home, and I now know the secret of how to make fudge frosting. 
For everything else that God blessed me with over these past 7 years in my friendship with Mary, I am forever grateful. 
I remember…..When we got to Frank Lake Church, Mary was the first person that Kathleen dialed and said, "We're here at Frank Lake Church, Grandma, would you pray?"  She did….and we closed our prayer time with "How Great Thou Art and How Great is Our God," the vast distance between the church and her lazyboy was no longer in existance in that moment in time.
A couple months later, I picked her up and drove her to the church.  We sat and meditated on the goodness of God, on life, and on God's provision of this church.  She prayed and I smiled. We knew she would probably never be there again.  "Live life serving God, Kathy.  Do good work for God right here in this little church building.  It's meant for you.  Use it for God,"  she told me.
Yesterday, when everyone left the room, and it was just sweet Mary and me, alone, I prayed with her and she looked at me and said, "I keep asking Jesus, 'Can I come home today?  Can I come and see you today?"  I pray with her that it will be today.
It is not that day…..but now….this day…..Today, she is closer to Heaven's doors than yesterday, and as she approaches, she flicks open her eyes and her daughter says to me, "Do you want to say something to Mom?"  I say to Mary, "You're almost home, Mary.  You get to be there so soon."  She looks at me as though she is already walking up to the gates. 
I tell her I love her, one more time, and I treasure in my heart the last words she spoke to me yesterday…. She had grabbed my hand, like she has so many times in my life, and she said, "I love you, Kathy….I love you." 
Oh, the words in life that make everything all come together into one….life, death….and the in-between…..and in that in-between……I found the true love and care of a trusted friend….someone who truly invested in me, who I was and who I was to become.
I love you, Mary.  Oh, how you will be missed.