I'm really just a little girl at heart.  I don't understand hammers, nails, and generators, and I certainly don't do well with a tape measure.  But I can make a mean batch of chocolate chip cookies, and brew a good strong pot of ice tea, and so that's what I did!  The girly stuff.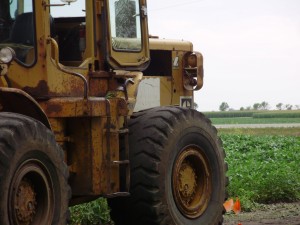 Here's what happened: 
The men arrived in their trucks with great excitement.  I could hear the clamoring voices and deep, rich, laughs, as I grabbed the camera and headed out the door to the grove. 
There were all kinds of gizmos and tools flying fast and furiously as I stood by in awe wondering how this would all unfold.  Big machines were driving back and forth…of course Farmer Dean had names for them all.  I just knew that they were something that guys relate to, and had no idea what they did. 
The afternoon before, Dean and I had walked out to look just one last time at the smooth ground that had been roped off for the church.  "I just can't figure it out," I said, "How is it possible that it seems so small where it's roped off, but when you're inside the actual church, it's so much bigger."  Dean just smiled and said, "Nope….I measured it…that's it exactly." 
The phone rang just then, and it was the kind man who would be trimming the trees on the route.  I hung up and jotted some notes.  The phone rang again and it was the electrical company chatting about what would happen the day of the move.  I jotted more notes. 
Dean came in the door to let me know that our movers were outside.  "The steeple will have to come off, Kathy." Jim said.  Ugh, I thought.  Ugh…again.  "Well, if it must it must….but we have to keep the integrity of the building.  I am someone who loves the way things were.  I want to keep it that way.  I only want improvements were things are destroyed."   
So, it became another thing on the stress list of "to-dos"……remove the steeple before the move.  Put steeple back on after the move.  Well, the electrical companies will be sighing huge sighs of relief now.  They've been stressed out about the height of the church with the steeple on, and how they'd make it underneath the wires.  
This morning, the emails are flying in, both phones are ringing, and I listened to  the men outside working.  They seem confident in what they are doing and happy as clams (as Grandma would say).  I hear the engines of big machines revving, intermittently mixed with the clanking of tools.  But I couldn't really tell you what they are doing, I just know that they are digging a big hole!  
The hole is dry and powdery, much to my husband's chagrin. That's not good for the crops he says….the dirt should be wet and clay-like…instead it's dry and powdery.  Nevertheless, the men continue to laugh and clamor, as Deano heads off for the post office.  
And then it happens.  They've marked with orange spray paint,  the precise, roped -off measurements of Farmer Dean, while I am inside whipping up a batch of chocolate chip cookies and brewing tea.  I've promised the workers a break after awhile, and I am working to make it a fun break.  After all, it feels like it's about 107 degrees out there!  I might not know anything about machinery and measurements, but I do know about people needing a break…and cookies….and icetea. 
But here's what happens next…..Mr. Hansen says, "Kathy, how big is the bathroom and where does the back door start and stop?  And, since we had to move Dean's ropes, I'm wondering where you think the door will open and how much of a gap you need for the walls."  WHAT!  Does this include thinking along the lines of measuring things that aren't flour and sugar?  And what do you mean that you took down the ropes from Farmer Dean's measurements.  What were you thinking! 
I smile, nod, and try to make sense of the scribbling in front of me, along with the marked lines of what will be the church.  Oh, my….now what? 
I do what anyone who's in charge of a ministry that just bought a church for $1.00 and is moving it into the grove would do…..I said, "How about if you give me a minute to pray and call my husband." 
Deano couldn't answer the phone because the post office had too many people mailing packages.  I fretted, fussed and continued to pray.  And then I called Mr. Johnson.  "Can you drive up to the church, take your tape measure and measure the corner of the church to the back door?"  I asked.  Thank Heavens for Mr. Johnson!  He lives a half a mile from the church and said, "Sure!"  Within a few moments, I called Uncle Gary and asked for help with the measuring part of walls and doors, threw another batch of cookies in the oven and jotted more notes. 
I took a big red tray filled to the brim with glasses, napkins, cookies and a big pitcher of icetea outside to the men, and gave Mr. Hansen the measurements.  
There it was….all in order now.  Somehow it seemed rather odd that I certainly had no problem with the measuring cup, but couldn't figure out the measuring tape. 
The men continued to work throughout the day as I would peek out often to catch up on the changing scenery. 
As the men pulled away from their day's work, I looked out to see a huge hole dug in the grove.  I heard the young worker thank me.  He said, "Those were the best cookies I've ever had in my life."  
Well, at least I can figure out measurements for that recipe….even if I'm not good with measuring walls and doors, and where little old churches go.