I was there today….at the church.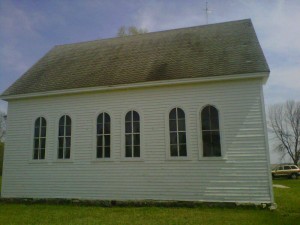 The sky was a beautiful, light summer blue, and the birds called back and forth in lovely tunes, as the breeze gently blew my hair across my face.  It was so peaceful and comforting. 
My new friend, Carolyn, met me for an interview for her paper, and as she asked me questions, the emotions stirred inside my soul.  "Are you as excited now as you were when we first talked?" she asked.  "More!" I answered. 
I held up the pictures that Dennis and Marie had given me and showed them to her.  "It's from 1922…look at their dresses, their corsages, and the men's jackets and ties.  I love it!" I said to Carolyn.  "What's happened so far?" she asked. 
I went through the list.  I started with the prayers and petitions that went up to God about the future of the ministry, the visit to the old schoolhouse across the road from our house and how it didn't match the vision. Then I told her about heading into Benson and then Monte to look for a place to rent.   I moved into telling her about the kind, grandma-neighbors having coffee with me and praying for me.  And then I continued reciting the crucial moments in time that have made up the pathway so far.  I told her about the grandpa, Donald, who recommended I look for an old church, and my neighbor, Vernie, who, when I said the schoolhouse wouldn't work, suggested the same thing….that I look for an old house. 
And then…I thanked Carolyn for writing her story on the front page of the paper so that we would even know about the church for sale for $1.00 on Craigslist.  Because after Vernie suggested looking for an old church, it was 12 hours later when Farmer Dean called me to say that there was one for sale on the front of the paper.  She gasped and said, "You're kidding me!"  "No!" I smiled and answered her. 
We talked about how the church had sat empty for over 30 years, and how Best Life had been in existence for five, and just in the last few months God had stirred my heart to think about a headquarters.  I reminded her about the verse that God gave to me, and then a few weeks later, gave the same passage to Kathleen as we were in prayer together, seeking God for direction: 
Isaiah 58:12 "Your people will rebuild the ancient ruins and will raise up the age-old foundations; you will be called Repairer of Broken Walls, Restorer of Streets with Dwellings." 
And then I admitted that I didn't understand that verse, or how it would so perfectly fit into what would happen for BLM. 
As I spoke to her and told her of the verse, we looked at the huge gray stones that hold up the church, it's very foundation, and I smiled and said, "Who would have even figured God meant it literally….we will really be raising the age-old foundations and moving it." 
I told her about walking in the church and knowing within those first seconds that this was exactly what God had planned.  There was no doubt in my mind, in sister-in-law Mary's, or in Farmer Dean's.  
We talked about the visit that Kathleen made to the church and how she cried with us.  She had Farmer Dean and I kneel at the altar and we called Grandma Mary to pray with us on speaker phone.  I remember how fitting it seemed, as Grandma Mary would come in my office at FBC and tell me "Someday you'll be doing this fulltime, Kathy.  You won't be a worship director."  I made Grandma Mary the Director of Prayer and Care Support. 
Michael, the videographer showed up at the church and kept working to set up for the video that we're making with our staff videographer, Thomas.  Every moment along this life-changing, earth-shaking, faith-building path is going to be followed and documented.  God gets the glory…as He rightly deserves.  
We brushed the ants off of our legs, laughed and walked to the car, where I showed her pictures from 1898 of the Swedish Choir, of 1922 and 1950's and confirmation classes, and of the congregation in the 1930's.  
And I told Carolyn that one of the most interesting things that God is doing right now is connecting dots and bringing things full circle.  Although the people in the area know each other and the church, I didn't know any of them…..or even that the church existed. 
As we discussed the upcoming going away service for the church on  July 29th, I told her that I found out that Frank Lake used to have six area country churches, different denominations, that would join together with Frank Lake Covenant,  to have a choir and special music.   That makes this musician's heart so happy.  One of the pictures I have from the 50's, reveals 3 young girls,  who will be there to celebrate with us, along with one of the original pastors who served, now in his mid-80's, on July 29th. 
God is good.  The journey is amazing.  The work is immense.  And for today, I allow my spirit to be filled with the good things of God.  The things that He does….where He ties knots, and makes people aware of how He really works in the details of our lives. 
I realize today, what makes up our past seems to be as important as what makes up our future. 
I was there today, at the church. 
And every time I am there, I feel the strong and mighty presence of a God who loves us….the Great I Am. 
The God of the past, present, and future.