The day had been a scorcher, but now there were big drops of rain, splashing against my windshield.  I looked out at the fields around me, and focused my thoughts on what it must have been like to live out here, in this countryside, and wait for Sunday morning church.  What was it like for those people in 1898, who prepared for the morning service by getting their wagons hitched up and their horses ready to go to attend the Frank Lake Covenant Church.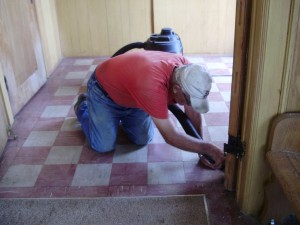 I smiled as I drove the familiar gravel road, the lake to my right and the hill with the church to my left.  I stopped for a moment and looked at the lake.  I could almost hear the voices of the past singing, "Holy, Holy, Holy……Lord God Almighty…..God in three persons, Blessed Trinity," as I continued to drive and put the car in park. 
It was an amazing site.  There were at least 7 or 8 cars parked there, and people were unloading mops, brooms, dustpans, and vacuum cleaners.  A kind grandpa was unloading a generator and shook my hand asking, "Are you related to the Weckwerth wrestlers from Benson?"  "Yes," I smiled and replied. 
I unloaded my cleaning supplies and took a deep breath.  I knew two of these people.  They were the kind couple that sold me the church, Dennis and Marie.  Dennis, always gentle in spirit and concerned about something, was carefully removing the storm windows from the church, while Marie, always bright and bubbly, was asking me to take charge and organize the troops. 
We opened in a word of prayer, and set off to scrub, sweep and dust.  The heat of the day was overwhelming, until we felt a cool breeze coming through the now open windows.  And I looked up.  I looked past the vacuum, past the pile of debris and past the laughing voices as they reminisced over the past and stories of their childhood, and I listened.  I listened for the Spirit of God and His voice.  And I responded to that prompting, that voice that reminded me to be so very thankful.  And I stopped for a moment and breathed a silent prayer of thanks and gratitude. 
It isn't everyday that someone gets to buy a church.  It isn't everyday that a ministry gets to utilize the building and carry on the mandate of worship from God.  And in today's world, it isn't everyday that you get to watch strangers come together and say, "I'll help you clean your church." 
We finished up quickly, and I remembered my grandmother's infamous line, that "many hands make light work," and headed outside to dump some dirty water. 
The men were chatting excitedly about the goodbye service that would take place on Sunday, July 29th at 2:00 p.m. 
We were ready. 
I walked with kind, Marie, out to the gravestones and reviewed several of the names.  It seemed as though so many of the dates revealed that many had died so very young.  And I always wonder how they were a part of the history of the life of this church. 
Today, I am thankful.  Today I am reminded that when people join together for a common cause for good, we are a community.  We are doing the very thing God wants us to do…. "Love the Lord your God with all your heart, and love your neighbor as you love yourself." 
To those dear souls who helped clean this week, thank you. Mere words seem lacking……..And now……… we are ready for Sunday.