Farmer Dean drove down the driveway and I looked at his smiling face as he burst through the door.  "Want to go over with me to see the site?" he asked.  I threw my shoes on and headed out the door.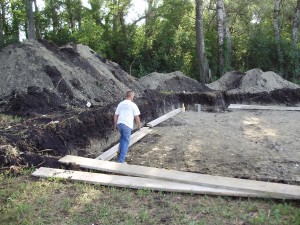 I told you before, I'm just a girl…..and a musician at that.  It's very interesting to me, to be a part of a process where a building is being moved.  I don't really understand how a big tall building can sit in this little spot….but there it is….all ready and waiting for the building to arrive.
"Well, that looks great!" I said.  "Nope…it's not right."  Deano says.  Somehow through the confusion of too many people talking about where a bathroom goes on the back of the church, it got a bit confused, and wasn't right. 
My husband paced back and forth.  It was some stress we didn't need.  And suddenly I was thrust into decision making mode.  That's one thing that I know very well.  The normal decisions for me were the same:  1.  What music would best suit the pastor's sermon 2.  Who was singing the solo.  3.  Did I need to write a drama. 4. How could we engage more people in worship. 5.  What band members were being used.  etc.  Over the past 2 years, it's been the following:  1.  who's speaking for what conference. 2.  what worship do we need 3.  whose editing the magazine etc.
But this time….it's back to making decisions about a building site!  Instead I was faced with the following:  1.  Do you really need a kitchen? 2.  Can the bathroom be somewhere else?  3.  How badly do you have to have that bath out back? 
This is too important…when you feel a mandate from God…a couple of footings can't stop you.  Nope.  I just told Deano and Mr. Hansen……we have to fix it. 
And so they did.  It went quickly, it was a small thing to fix, and the concrete men were here and then gone.  I sighed a big sigh of relief. 
I still don't understand it all, but I understand the sigh of relief, the relaxing of the shoulders and the smile on my husband's face.  "It's right now.  It's alright!" he said. 
I might not understand the whole process of building and foundation laying, but I know this……the church for Best Life Ministries only has 15 more days until its arrival.  Much must be done to prepare and much must be done in prayer. 
But for today, I head out with my little dog Benny and meet my grandson at the lake for an afternoon of rest.  Deano….well, he's still working and preparing for a steeple to come off, a chimney to come down and some trees to be trimmed. 
Thanks to God for the firm foundations we have when we trust in Him. 
Coming Next:  The Goodbye Service and Chimney removal!