I pulled Grandma's pitcher down from the cupboard.  She once told me that she had used it when my dad was a little boy.  It had six lovely glasses that go with the set, but I'm always too scared to use those, and so today, I just fill the pitcher to the top with ice water, watching the lemon slices swirl to the top.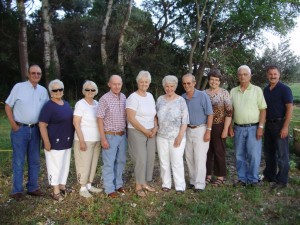 The day is so horribly hot, and I worry that it will be too warm for our company to sit outside and enjoy our little backyard area.  Deano has lit tikki torches, washed the glass table tops and attached the umbrellas, and every outdoor lamp is lit and the lawn is beautifully manicured.  
I reach in our fridge for the cold potato salad I made with Bud and Marion's baby red potatoes, and I pull out the dill pickles, quickly grabbing the brats and burgers to head to the grill.  The Lays potato chips are looking very tempting as I pass by the big blue bowl and grab one, savoring the salty bite on my tongue. 
The aroma of fresh brewed tea is flooding the air and I have attempted to create Deano's famous banana punch.  Good grief, I don't know how he does it….but I tried. 
I take a deep breath and look around.  Everything is ready for our company.  Everything has been carefully prepared, so that we can put aside moments in time and thank these wonderful friends and neighbors, for their part in this journey…the journey of Frank Lake Covenant Church. 
I hear a knock at the door and the evening begins.  Laughter, hugs and excitement , electrify the rooms.  Frank Sinatra and Dean Martin's voices are singing old love ballads from the 40's, and I feel a calming peace as I look around the room. 
While Dean is working on firing up the grill, I get everyone seated, these fabulous nine individuals who are making up the moments of time in our lives, and I pour Dean and I our glasses of banana punch.  "I'd like to propose a toast," I say with my glass raised.  The smiles and giggles reach my ears as I continue, "To each one of you who have played a part in this story.  To Laverne, who said no to the schoolhouse and said 'how about looking for an old church.'"  "Here's to Mona, Luella and Javonne who prayed with me to find the right place, and encouraged me over cups of coffee and prayer.  To the other Mona, who prayed with Dean, Laverne and me that afternoon, months ago.  To Donald who called and said, 'What about an old church?  Drive down and look at that old church and see what you think.'"  And then, I stood next to Mr. Johnson and put my hand on his shoulder and said, "And to Dennis and Marie, thank you for selling me your church for $1.00. 
Here's to everyone and how God uses all different people and pieces for His honor and glory." 
And we clanked our plastic cups together and Mr. Johnson brushed his eyes, while I choked back my emotions. 
I prayed and we moved into enjoying the evening, our dinner, and one another's company. 
We chatted about life.  About cars and cats, about jobs and churches, and about one old church in particular.  We laughed and swatted the bugs, and breathed in the fresh night air.  And after we served up hot cups of coffee and red velvet cake with cream cheese frosting, we headed over to the grove where the church will go.  It was the most important part of the evening, aside from thanking everyone for listening to God and being involved in a neighbor's hopes and dreams, and Dean and I led the guests to the bare spot in the center of the grove.  "It will go right here," Dean said.  And Marie and I laughed over not being able to believe that it looks so small, when the church feels so big inside. 
The men did what men do and sat around their table talking of fields of corn and beans, while the ladies retreated to the gazebo, enjoying the time together. 
As the conversation continued,
 I just took a moment and breathed in a deep sigh, and thanked God.
  A God so big….so great….so Mighty….who would hear the prayers of people who didn't even know one another, yet knew the same God.  A woman praying that God would provide a headquarters, while twenty some miles away,  men and women prayed that God would continue to use their church for ministry.  
The great Creator, God, is the Almighty One who truly connects the dots, connects the prayers, and connects the hearts. 
The journey continues.  It is unbelievably moving and emotional.  After they left,  I looked up into the heavens and said to God, "From generation to generation….may Your glory be known."  And the life of Frank Lake Church…..while…..we continue the journey.