It's hard to see the church up on beams.  I want to run in and pray, sing, create, and dance around shouting praise to our God, who answers prayers!  But for now, it sits up tall and quiet, waiting for its restorations to take place.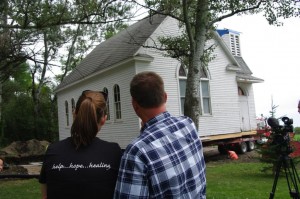 I walk out and frequently say, "Welcome home, Frank Lake Covenant," and watch as Farmer Dean and Uncle Gary work diligently underneath to repair old broken down floor joices, while the other workers in this fabulous storyline, are preparing for their roles. 
On Sunday morning, Deano and I drove through the countryside to church.  On the trip, he expressed some concerns and worries.  Okay….the word "some" is used moderately.  He was a nervous wreck.  I listened and said, "We can't do this to ourselves.  We will just have to pray and trust."  So, we prayed.  
"What will happen with the steeple?  They're coming to set it back onto the church on Friday, and I don't know how we'll possibly get it painted in time.  I feel overwhelmed," Dean said.   I dreaded painting anything; for fear that the "oldness" of the church would be lost.  So many friends have suggested contemporary touches.  Ugh!  This little girl has dreamed of old houses and churches her whole life!  Nothing new…nothing contemporary.  We're going with the heart and soul of Frank Lake Covenant.  112 years.  Shingle the steeple!  I think not.  But, I saw the many spots of rust and Deano said we needed to paint to put a halt to anymore deterioration.  But how could he do it, what color would look like tin and when would he have time with his full time job?  Ugh.  "Trust God," I said. 
We pulled into the parking lot, and as a usual summer Sunday can bring, a smaller crowd was headed into the doors.  We love our church.  There are days that I wish that Sundays came more often! 
Dean and I found our usual spot and settled in for a wonderful time of worship.  During the turn and greet time, our secretary's husband turned and said he'd like to come over to paint the steeple for us.  Could he come and help on Tuesday?  I thought my husband would pass out.  The shock on his face was priceless.  I could hear my daddy's words as I looked at this kind painter (Gary paints for a living) expressing his offer of help, my dad would say,
"Kathleen…we can't pray and have faith, trusting that God will help us, and then be shocked when He does!" 
Deano sat down and I smiled.  "I can't believe it!  I can't believe how God is orchestrating this."  We had called several carpenters to no avail, and now, this sweet secretary's husband was a painter and brother was a…..you guessed it…carpenter!
Pastor Bruce began his sermon, only for my husband to look again at me in shock.  The sermon was about feeling overwhelmed and trusting God.  I was elated.  God was being real and in the very details of Farmer Dean's life…not just in my hopes and dreams…but in my husband's as well. 
We left church, and two days later, the gentle spirited, Gary-the-painter, showed up to take care of the steeple.  I had purchased too light of a color, but ran to town for a darker gray. 
That night, Al, the carpenter showed up ready to get to work.  He's been having some slower days lately and needed the work.  We needed some help!  He happily climbed the stairs to get into the church and peruse about the rooms to see where to start.  I, on the other hand, fearfully made it to about stair number 4 and peered up at Farmer Dean and Al, wondering how they would ever get down from the church.  
Last week, after the tv crews coerced me up into the church building for a final interview, I decided firmly that I would have to live in the church!  "Bring up a blanket and my ice tea maker," I told Deano.  "I'll just stay here for the rest of my life!"  Too scared to get back down the ladder, Deano and 2 cameramen tried to remain patient, as I explained that I couldn't do it.  Finally, the one English-camera-man…..in his fabulous Brit accent said, "You jolly well better do it now, Kathy, you made it up and you can make it back."  I did and he said, "Brilliant!" 
Tonight, I step down ladder rung number 4 and head back to the house.  In the past two days, I've purchased paint for a steeple (twice..the first color was wrong!) and watched Gary paint it, I've looked for front doors, purchased an old oak inside door for the office, purchased a fabulous corner cupboard for the office, looked at shingles and decided on bathroom faucets.  Home Depot isn't looking so bad to me anymore.  And the owners at the antique store in Alex are calling me by my first name. 
Although this is wonderful and so very enjoyable, I look forward to getting into the church, sitting in my desk, sipping a big glass of brewed icetea, and getting to work. 
Scripture tells us the harvest is big…the workers few….and I know about what a frenzied time harvest can be….
I'm trusting God that we can use this building, work together as a ministry team, and bring help, hope and healing to women…..everywhere.  Not just the Twin Cities….not just Iowa and Wisconsin….but may it start where I live….right here in rural Minnesota.