My parents were church planters. During my childhood, they helped to start a couple of different churches in the Southwest Iowa area. Along with their church planting hearts, came the abilities and tasks of serving in many various capacities within the church. But one of the tasks that came along with a small upstart church was….cleaning. There's something about cleaning that happens to your soul…..cleaning walks hand in hand with ownership.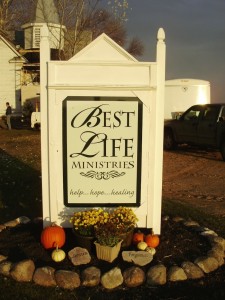 I never seemed to mind staying after services on Sunday mornings, Sunday nights, and Wednesdays nights. We would pick up trash, wash dishes, put Bibles and hymnals away, sweep the front entry, and turn out the lights.
My heart was most connected to the old 1920's house where we met while our new building was going up on Hwy 2, just outside of town. It had a lovely old porch, beautiful oak woodwork, sliding doors in the parlor, tall ceilings, and claw foot bathtubs.
As a little girl, I'd be so happy to help clean that house/building. The feelings of ownership and belonging happens when we take personal care of something, and invest in its upkeep.
I remember the day that my daddy hung up the sign on the house/church. I remember feeling that it belonged to us as a congregation. I felt so proud.
Last night was our Bible Study at Frank Lake Covenant. Although I officially call it that, I also call it "The Church in the Grove." As the evening drew to a close, and one by one the ladies cleared their dishes, grabbed their Bibles and hugged me goodbye, I closed the doors and felt that feeling I haven't felt for years…..good, old, happy…..ownership.
I clicked off the warm lights that are up front by the communion table, and put the music books away on the piano. I walked over to the kitchen and cleared the pumpkin cake and grabbed the coffee pot. And as I went to click off the light in the entryway…I stopped.
Making my way back up to the front pew, I sat down to pray. And I looked around and said, "It feels like home, God. It's what this little girl from Iowa is used to….serving you. And yet you didn't just allow me to work for you, you allowed me to serve you like I used to. And it isn't just leading worship and a Bible Study, or connecting with churches for conferences, or leading a staff, or creating the New Year's conference topic, no, it's the simple tasks of cleaning up, and as Grandma Thelma used to say, "putting things in order." Grandma Thelma used to say that when we clean things and put them in order, we are giving that place its proper respect.
I head towards the front doors now with my arms full of pumpkin cake and coffee carafes, and push out past the scaffolding (the carpenters are finishing the shingles on the roof) to get into my car. I brought so many things tonight, that yes, I drove the few feet to church.
Backing out of the drive, I look up at the glorious sight before me. The church lights are still on, and there is a warm glow that soaks into your spirit as you look at the yellow and purple hues that come from the stain glassed windows, dispersing a gentle God-like welcome to all those driving by in the bleak darkness of this fall night. And I look at the single bulb that shines down from the entry and casts its glow across the yard to the sign that we dragged out of the old shed up at Frank Lake Covenant's original home, it says, "Best Life Ministries," and I say
"Thank you, God.
My husband, Deano, worked very hard to restore the sign and position it smack dab in the front yard, positioning it with the steeple, arranging several of the original stones from the old foundation in a circle around that sign.
We are circling Best Life with the ancient foundations that were built originally for this building, for God's glory, from its past to our future.
I back out of the driveway and say to God….thank you for the blessing of this building from 1900. We will love it, respect it, and honor its heritage.
I drive past its beautiful glow….feeling a strong sense of ownership.
Your people will rebuild the ancient ruins
and will raise up the age-old foundations;
you will be called Repairer of Broken Walls,
Restorer of Streets with Dwellings. Isaiah 58:12