The Christmas preparation began the day after Thanksgiving, here at the Weckwerth farm.  But the preparation for the Christmas Eve service began earlier in November, for Frank Lake Covenant Church in the Grove.  And for days…I worked at making it as perfect as humanly possible.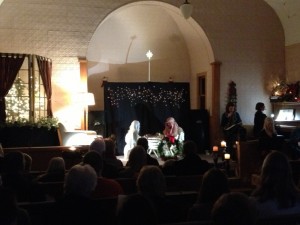 Warm smells of cinnamon and cloves filled my kitchen, as I pulled out gingerbread men from the oven, while I watched Farmer Dean making up batches of Christmas punch.  It's a family tradition for this slushy red punch, that Dean and I created when we got married, and I found a fabulous recipe that we enjoy making. 
The punch bowl, Christmas dishes, and all of the decorations were pulled out of plastic tubs from the basement closet, and Jenessa once again took the role as present-wrapper.  Nothing looks more beautiful than packages wrapped by someone who is studying to become a middle school art teacher. 
A vintage santa and snowman were put outside with matching candlesticks, like the ones I loved when I was a child, and the table was set while we prepared for the Bible study friends to come and sing carols and share yummy foods. 
And at the old church, men stomped snow off their boots as they went in and out….and in and out, working on the bathroom, carrying huge pieces of wood, saws, and tools that made big buzzing sounds and created lots of sawdust. 
Good friend, Susan, had dropped off lovely boughs of evergreen and redwood twigs, along with pinecones to decorate, and we worked hard to hang wreaths in the old stained glass windows.  Two old violins were placed in the old suitcase on top of the 1900's piano, along with burlap ribbon and an old kerosene lamp. 
As the finishing touches were placed, I gazed around with an admiring look and wondered how long it had been since the church had experienced such excitement!  Beautiful cds of Christmas music floated to the ceiling and as I prepared for one of my solos, I sang loudly and let my whole soul burst forth with praise for the God of my life who answers prayers that are hidden deep within the closets of my soul.  As I sang, oddly enough, I watched the middle lamp from the high tin ceiling, as it swayed back and forth to the music.  For a brief moment in time and space, I felt as though angels were honoring my efforts, and then realized it was no doubt the furnace sending heat throughout the room.  But I enjoyed believing for a moment it was God's pleasure over the efforts that would soon be used once again on a Christmas Eve night. 
I cannot express emphatically enough the amount of energy that I put into each moment, event, decoration, cookie, and piece of preparation.  I could feel myself pushing past what I knew was all that I had to give.  And as I scrubbed the entry floor and waxed it, early on Christmas Eve morning, the church was ready for its guests.  I prepped and readied my home, and fought back the exhaustion and sore throat that was soon to take over….good thing I didn't know that it was coming. 
As late afternoon approached on Christmas Eve, people began to fill the pews at Frank Lake and I looked out at the sweet church.  A thought flashed through my brain.  I remember that the last time I led a Christmas service, we hosted 750 people in a blizzard.  It was the largest drama I had ever written, with the most cast, biggest props and had elaborate sound and lighting.  I remembered that we had hosted over 350 people driving through to see our live nativity (we even had a camel!) and I had done radio and newspaper interviews.  I looked out at the church that was filled with about 80 people, and I felt nervous.  I wanted it to be perfect for everyone there.  I wanted it to be perfect for God and for the memories of the church services and people who had gone before. 
And the service began.  I took stock in my brain of all God had accomplished.  A bathroom was completed, months of Bible Studies had taken place, the steeple was sealed securely, an old pew had been added to the several that were missing, a foundation had been placed securely beneath the church, a parking lot added, a sign put up, and life had taken place in the few short months that we had moved the building.  Life.  Real life.  Not asleep, not resting, not hibernating, but real life was taking place in this building.  Real worship.  Real prayer.  Real Bible Study. Real people.  Real God.  Real life. 
The service began and with several glitches it took off.  The things that this old Worship Director would have changed, well, I could list, but it wouldn't matter.  The look on the people's faces when they held their candles and sang "Silent Night," was what mattered most to me.  That and the fact that I was able to speak freely of the salvation that Jesus brought that night as He nestled into a manger of straw.  
And when I arrived home and didn't have exactly the perfect supper, or not every one of the presents was wrapped, or the fact that I forgot to bake someone's favorite cookies, well, it started to bother me.  It wasn't perfect.  None of the Christmas this year was perfect.  And the fatigue and the flu started taking over to again make me aware that it wasn't perfect. 
And suddenly I remembered something so very important.  You see it's not that everything has to be exact and just so.  It's not that songs and scripts, or cookies and carrots, or snow and sound have to be exact.  
As a matter of fact there will always be only one perfect piece of Christmas that remains perfect….the fact that the King of Kings left His heavenly home to become a baby, born that we might know eternal salvation…well, that's the most perfect thing about Christmas…and life. 
So, for today, I sip my hot mug of steaming apple cider and I look at the sweet falling snow out my window, past the Christmas tree and lights, and past Frank Lake Covenant Church in the Grove,  and I tell God….. "Isn't it great that I don't have to be perfect?  Because all that You do, and all that You are, is perfect enough for all of us."