The day was bright and the warm sunshine was pouring through the large wall of windows, as it bounced off of the wood floor.  I looked out past the lovely array of burlap, hydrangea, sticks and ivys, and took in a deep breath.  The day of my daughter's reception had arrived, and the people would soon be coming through the double doors, walking underneath the trellis and past the lovely fountain, to find their seats.  My daughter was celebrating her marriage to the love of her life.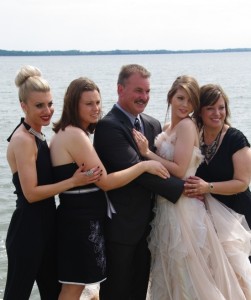 As our family and friends starting arriving, I looked out those windows and watched the photographer snapping shots of my three girls, as they laughed and poked at each other, while the breeze wildly blew their hair around. 
My heart was so happy, but something was nagging at my brain, I just couldn't quite place it. 
Frank Sinatra, Dean Martin, and Andy Williams' music filled the room, along with the murmurs of chatter and clinking of glasses.  The aromas of the delicious food were overwhelming as we took big bites of the rich, dark gravy that encircled the tender bites of beef, nestled next to the baby red potatoes, and julienne carrots.   The meal seemed almost perfect, with the deep brown color of the fresh brewed tea next to my plate.  I could hardly count the moments until the carrot cake was dug into! 
Farmer Dean was in all of his glory, as he sat next to good-friend, Brad Wester, and reminisced over their childhood days.  I looked past them at my girls, and watched their happy faces smiling from afar.  The sisters sat in a row at the head table, while their husbands sat with the parents.  I felt so proud, so thankful, and yet, there it was again….that prickly feeling.  I pushed it back….I pushed it down again. 
My mother was leaning in and whispering something to my aunt, and Grandma Mary was giggling with Donna and Kathleen, as I looked around the room.  What a wonderful feeling it was to be together. 
As the dance started,  I looked at my dear-drummer-friend, Andy, our dj, as he had picked the perfect song for the dance for Jenessa and Deano, and I listened as the music started.  I watched my sweet husband, the love of my own life, as he took my child's hand and they swayed to some fabulous tune by Tony Bennett.  And it came fast and furiously….the hurt, the pain, and the tears.  I bit my lip and I tried to look away from the table of my friends…but to no avail….the tears came.  
Instinctively, my friend Grandma Mary grabbed my hand and held it.  "I know what you're thinking," she said.  How she seems to always read my mind, I'll never know.  I could barely answer her as I said, "That's how it should have been.  That is the man who should have been their dad.  Why did we have to go through divorce and brokeness?"  I cried.   "Oh…but he is….he is their dad," she said.  And just then, Chandra, my middle daughter, and the impetus of Best Life, came over and hugged me…. "he is our dad, Mom….and he's here now. We're better…we're stronger for going through pain in life…and knowing that God is our strong tower and our strength. 
We are who we are because of what we've gone through." 
There are days when I don't understand.  There are days when I chastise myself, the little girl who didn't think through her life story, when she was choosing her future those 32 years ago.  I often wonder if I would have had more patience with myself,  more confidence, and more trust in God, if life would have turned out differently. 
And so I ask God to forgive me for the bitter spirit that wanted to creep in today…that spirit of resentment and hurt….of confusion and angst, and I hug my children and my friend, and I tell myself, God wins…..He saves the day….saves the life story…and He wins…because there, my sweet, Deano stands….swaying back and forth to the lovely music…..hugging my child, loving her like she is his own…..and for today….I say thank you, God….for resurrecting my life, my hopes and my dreams, and providing a fabulous husband and father to my girls. 
And to my sweet children……congratulations…..for turning out so beautifully.