When I was a little girl, on lazy, warm, Iowa summer days, my siblings and I would often ask mom if we could go to the A &W.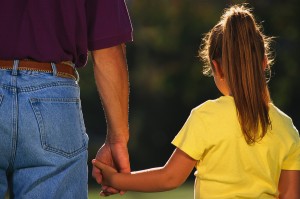 It was a short distance from the edge of town, where we lived, and because it was a treat that didn't happen often, we would do a lot of asking! 
Mom would look at us and say, "Well, we'll wait and see what your dad says." 
That was it.  Nothing more…. nothing less.  Just a time to wait and see what Daddy would say. 
Now, just to give you an idea of what our Daddy was like, when I asked him three years ago at his hospital bed, just before he died, "Daddy, do you feel like you got to do everything you wanted to do in your lifetime?"  He answered so proudly, so plainly, "Oh, yes, honey.  My greatest desire in this life was to be a dad.  I lived for it.  I loved it.  If that's all I ever accomplished, I'm a happy man to be going home to meet Jesus." 
So, you can imagine, when Mom would ask him after dinner, "The kids would like to go to the A& W for some root beer," he frequently smiled and said "Let's go." 
At times, my father would have a reason why we couldn't go.  Sometimes it didn't work out with other plans, or he just had his reasons.  We just accepted them, at times, feeling disappointed, but we went on with our days and nights. 
Last night, my husband and I faced a big decision….a fork in the road for the ministry.  We had been in waiting mode for quite some time, and I could hear my mother's words, "Well, wait and see what your Dad says." 
Dean and I waited on God.  He had brought us to this door, and so we must trust what was on the other side.  
And yet, as we opened the door, it wasn't right.  I felt like we were watching "Let's Make a Deal" and the door that we opened had the goat behind it.  Of course Farmer Dean would have loved it.  
We walked home, hand in hand, questioning God and each other.  What did I miss?  We began to pray and discuss things.  And I looked at Deano and I said, "Well, Dean, we'll just have to wait to see what Dad says."  
Our Heavenly Father is in charge. 
Sometimes situations and circumstances are what my friend, Lynn, calls "Placeholders."  They're the things in life, the people in life, the plans in life, that help hold that place in time, until we get to the right thing, the right job, the right person, the right place, the right building. 
And so, today, I hold out hope for a gracious "Dad", a Heavenly Father, that He will continue to provide direction on this journey that we travel.  And I look for His counsel, His thoughts, His guidance…
and mostly, I know this one thing for just today, we will wait to see what "Dad" says.